28 Dec

Post Christmas Vacation and Wrap Up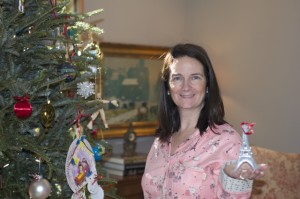 It seems silly to be writing this as I am sitting on the beach in the British Virgin Islands with Mr. Weekend In Paris and our kids, but Santa was too good to me this year to leave out of the post Christmas vacation and wrap up of 2013.
For starters, my sisters and I all received matching fluffy, French themed pink pajamas with Eiffel Towers on them – très chic! How fun it will be when the three of us go to Paris together at the end of January and wear them in our apartment we are sharing that is sponsored by Go With Oh? Yes, that's me on Christmas morning with one of the Eiffel Tower sparkly ornaments from my Christmas tree. When I return from this trip I will try to photograph all the French ornaments on my tree and show them to you.
It will not matter if it's cold in Paris this January, because I will be sporting a new winter jacket with a warm fur trim (not real fur, so don't freak out my PETA-loving readers) and I will be donating old winter coats of ours that have been sitting in the closet from year's past that the kids have outgrown. Also, I am keeping to my rule, when something new comes into my closet, something must be given away or donated. I love to purge, keep things orderly and help others in the process. I need to work on the luggage area, however, as I do tend to hold onto pieces that have long lost their usefulness – broken zippers, holes, faulty wheels.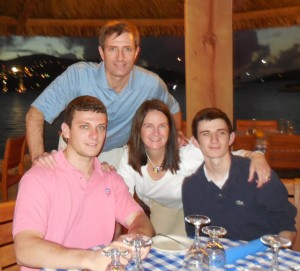 I hope everyone enjoyed their Christmas season and are getting ready for a Happy New Year – we will still be here basking in the sunshine and most likely sailing every day until we are forced to leave this slice of paradise in the Caribbean. I can't think of a better way to end 2013 than with my family celebrating our good health and good luck to be together during the holidays. Life is short, hug more, laugh more!
All photos are the property of The Weekend In Paris. Must obtain permission before use.