13 Sep

Poor Dining Experience in Paris Turned Into Good Customer Service Opportunity

A recent poor dining experience in Paris at one of the city's most historic cafés led one of my readers (Paul) to write a scathing review of one of my favorite restaurants. After reading what he had to say about Le Procope I began to wonder if the place was too far gone for me to recommend to anyone else (its been one of my favs for 20 years). After contacting Paul directly to see what happened – he had cold, bad food and very poor service, I asked if he spoken up at the time about his unsatisfactory situation to which he replied in the affirmative. It appeared that the waiter and the maître d' for the evening in question were both indifferent to his plight. Paul was understandably furious over the ruined evening which he had planned especially for guests himself and the bad taste lingered on for him long after the indigestion.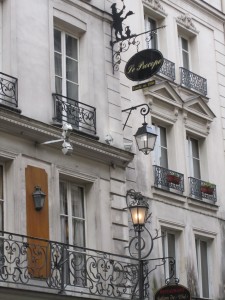 Paul did all the right things and still had a poor dining experience, but he did something very important for the rest of us diners – he took action and wrote to the restaurant to document his experience and quite frankly, I think, to get it off his chest. He was constructive and stuck to the facts. I wasn't sure what the response, if any would be, so I am happy to report that not only did management care about Paul's plight, but the Regional Operations Director Joaquim Braz of Le Procope wrote him a very apologetic letter and sent him a gift card for dinner for two to make amends. Now that's good customer service!
Paul and I emailed back and forth and I am happy to report that he seems satisfied with the new results and I am delighted he received some satisfaction after such a nightmare. If you would like to read what Paul wrote in the comment section of my blog, go to the Le Procope page. I also posted the apologetic letter in response that Paul received from Joaquim. Paul is such a fabulous fan of The Weekend In Paris, he also offered for me to take the meal for two and check it out in January, when I am next in Paris. I will do so willingly, hoping that the restaurant is in good form once again and report back to you all.
The lesson here? You don't have to take a bad experience lying down. You can voice your displeasure and be heard! If more people took the time, as Paul did, to write to the restaurant so the management can be alerted to the poor service and correct it, then more people would be spared having a similar negative dining experience. We should all be so helpful – it helps management to examine their staff and it helps fellow diners. We all hope to never have a poor dining experience in Paris, but like anywhere, it happens. It is what you do afterwards that makes a difference.
Thank you to Paul for sharing the story from beginning to end with me and thank you to Le Procope's Joaquim Braz for making things right!
Bon appétit!