15 Jul

Picnic Anywhere in Paris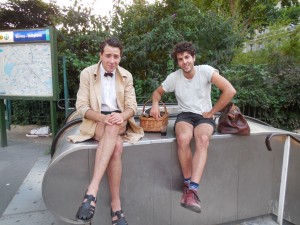 The Parisians are enjoying the new sunshine after a miserable spring of rain, rain, rain. With so many lovely parks you would think everyone would be picnicking on the green grassy lawns, but as we discovered, the Parisians will picnic anywhere. I snapped this quick shot outside the exit of the Sèvres-Babylone Métro line the other night. Two mates enjoying an impromptu picnic of wine, cheese and of course, bread! Lovely guys!
All photos property of Weekend In Paris. Must obtain permission before use.