21 Apr

Sometimes It Pays to Hire a Personal Shopper in Paris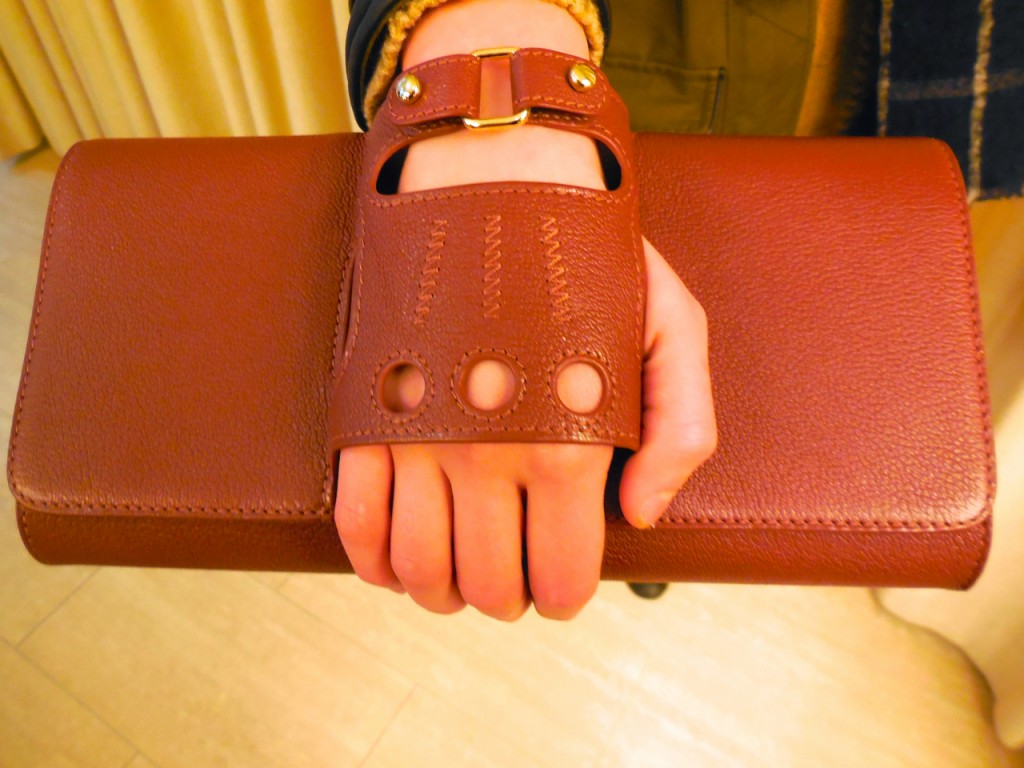 Perrin clutch
I must admit, I have my favorite shops and shopping areas in Paris and tend not to stray too far from them. I could be a guide myself on rue du Bac and rue de Buci or in the Marais, however, with hundreds of stores in the city proper, there are dozens of back alley and private access only boutiques that tourists would never find or be able to pop by without the aid of a personal shopper in Paris. Tourists on a mission to find certain items can streamline the whole process by engaging a private guide to assist them. On my last visit, I decided to see what I had been missing and thus elicited the help of CJ Tours and met the charming private guide Ellie.
Ellie, very kindly met me in the lobby of Le Meurice after I had an extended lunch at Alain Ducasse's majestic restaurant. She waited quite patiently as I was a bit late for my appointment. My apologies, for I am NEVER late for engagements and find it trés rude, but when the chef keeps giving you more and more exquisite food and topping off your wine glass with Montrachet, the best of intentions get away from you, non? Prior to the trip, the founder of CJ Tours, Chloe Johnston and I had discussed the purpose of the shopping trip, what I was looking for and what would my readers be interested in knowing about. This gave me a much-needed focus for my quick jaunt about town with Ellie. Once Ellie and I hit the pavement, we kept up a fast pace ensuring that I saw everything on my list that was important. Ellie was super, keeping me on task and checking in with me about my likes and dislikes as we checked out each location. This quality is excellent in a personal shopper because there is so much to look at that you can get consumed in one place and miss the rest. However, Ellie was quick to point out that some clients find a place they adore and prefer to spend their entire time in one spot, trying everything on and buying everything in sight. The client is always right she tells me and I believe her!
Of the twenty or so shops we visited,. Here are my favorites: Perrin – This amazing shop is full of high quality, über chic, unique handbags and gloves. We went into the workshop and showroom that is in a gated mews. There were clutches and totes and shoulder bags, oh my! I said to myself, "Priscilla, we are not in the US anymore." Indeed not, because the shapes and materials used were nothing short of genius. European designers have access to mediums (animal skins – not endangered, just interesting) we do not in the U.S (California doesn't allow anyone to sell handbags made from certain animals, even though you can manufacture them there; just not sell them there). Visitors to the workshop are greeted by private appointment only. Didier Ludot – Something for every age and body type, this private label designer is famous for his little black dress numbers. It was the end of the season when I visited so there were limited sizes available, but you can bet the farm that if he had my size in stock my United Presidential Plus card would have been exercised a whole lot in his place.
Catherine Loiret – Famous for her colorful leather bags that have hidden pockets in them, this designer goes the extra mile with her designs. In addition to her secret compartments, she also has built in some common sense features like exterior magazine holders and zippers that expand a small tote into a large handbag when needed. Richard Grand – 100% Cashmere, 100% yummy sweaters, scarves, hats and gloves. The soldes (sales) were ridiculously super and the quality supberb. Lest you think Ellie ran me ragged, I can assure you that she checked with me along the way to see if I needed a break and helped me carry my bags. I was having such a great time I hardly noticed the time, but when my swollen ankles cried "uncle" I asked for a bit of a rest. Ellie took me to a quaint little place named l'éclair for an aperitif. It was just what the foot doctor ordered! And, as an added bonus, Chloe's mother Mary Ann popped into l'éclair to meet us for a quick drink. She is very knowledgeable as well about shopping in Paris and has long-lasting relationships with many exclusive designers. If you book with CJ Tours, make sure you ask if Mary Ann can meet you for a drink afterwards. CJ Tours offer themed package tours, private tours and extended tours. Check them out and decided for yourself which option best suits your needs.
My private tour was complimentary, but as usual, the opinions expressed in this post are my own.