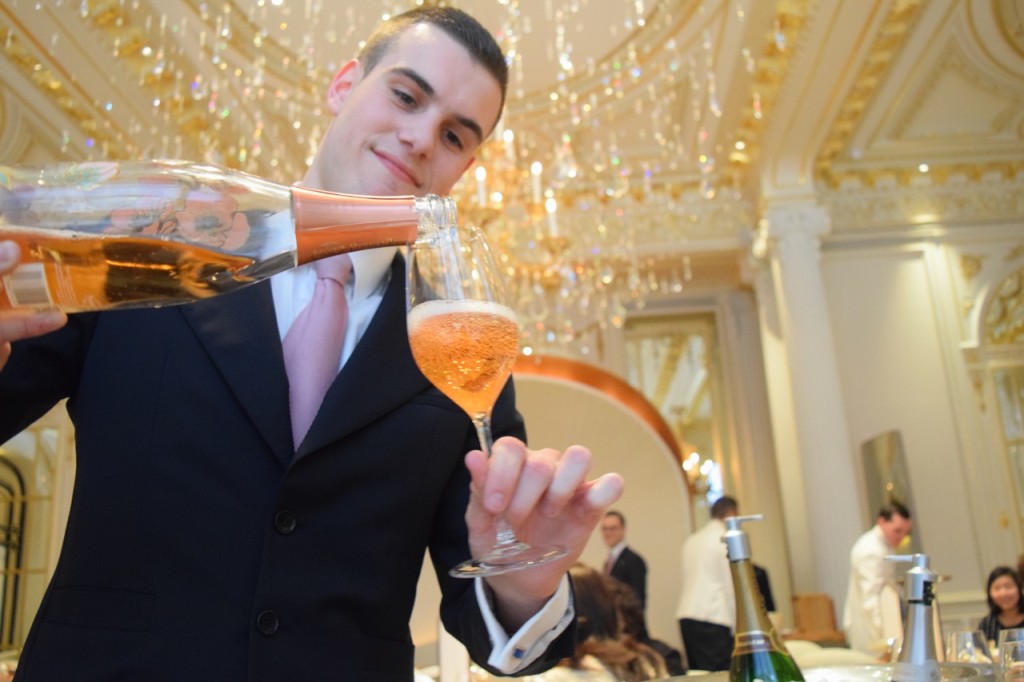 08 Apr

Paris Plaza Athénée is Regal, Hip and Quintessentially French

Paris Plaza Athénée is quintessentially French, but there is more to this regal hotel than meets the eye. Modern updates coexist with traditional furnishings in the rooms and public spaces while a cool, hip vibe has been added to the once stodgy bar.

Sure the Athénée hosts celebs and famous actors on a regular basis, but its reputation for treating every guest like royalty is what stands out in the competitive five-star hotel business in the City of Light. Gal Pal Christine and I checked into our glorious suite expecting nice furnishings for sure, but it was the genuine hospitality that won our hearts.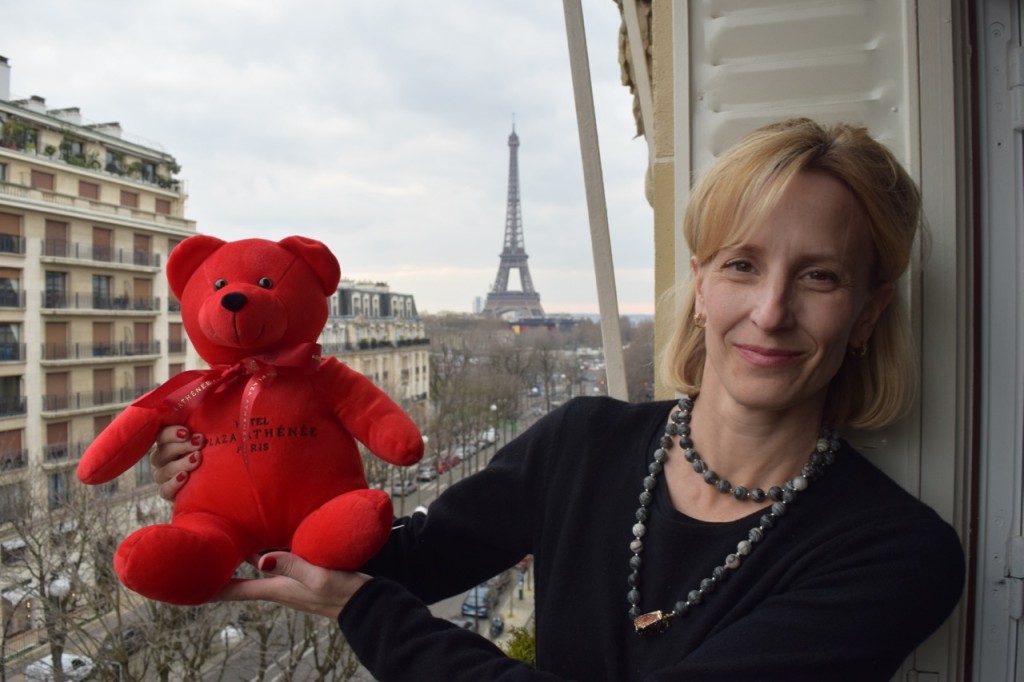 Learning that the Plaza mascot is a ruby red teddy bear, Christine casually mentioned to the front desk clerk that she would like to purchase one to bring home to her lovely princess child back home. Unfortunately this was not possible we were told. No matter we thought, there are certainly many more special treats we would find along our shopping trail. The next day, magically, said teddy bear appeared in our room much to Christine's delight. What a thoughtful gesture by an obviously well-trained customer service specialist who pays attention to detail.
What gals need when on a girl's getaway together is space. Space to spread out cosmetics, hair brushes and gobs of toiletries. Space in closets with plenty of hangers so everyone can hang up party dresses and work suits. Space to make important work calls and FaceTime with spouses and children back home in privacy. Our suite delivered space in SPADES! Not only was there a double vanity in the bathroom, there was a walk-in closet and separate vanity in the hallway allowing us to get ready at the same time without getting in each other's way.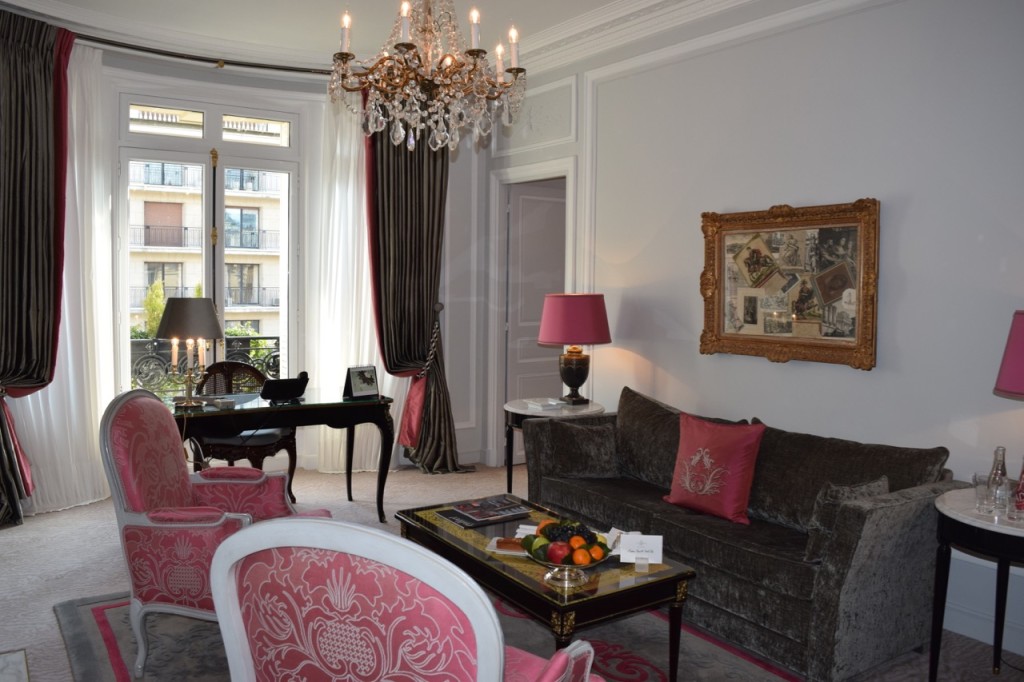 The living room boasted a lovely seating area and work desk with a set of French doors that led the way to a wonderful view of Her Majesty the Eiffel Tower. We greeted her in the morning at first light, during the day under blue skies, at sunset under a golden glow and at night twinkling, outshining the brightest of stars in the sky.
Le Bar du Plaza Athénée is managed by Paris' legendary barman Thierry Hernandez. The interior design has been updated with a 70's disco meets cool speakeasy vibe, complete with live DJ five nights a week. Thierry has come up with a new cocktail regime and has cleverly figured out a way to personalize each drink.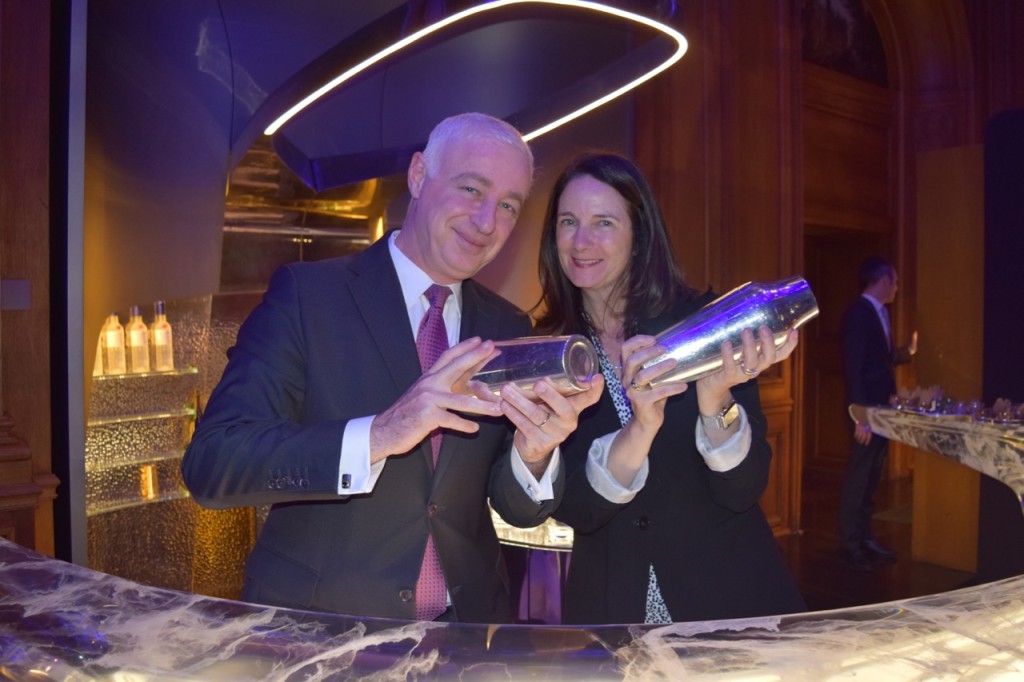 It was impressive that the doorman asked if I was staying at the hotel and in which room. I didn't understand why at first, but when the drinks arrived covered with the edible marshmallow "coffee cup top" that had my website name written on top it all became clear. What a fun idea! More about Thierry and his innovative ideas in a future post.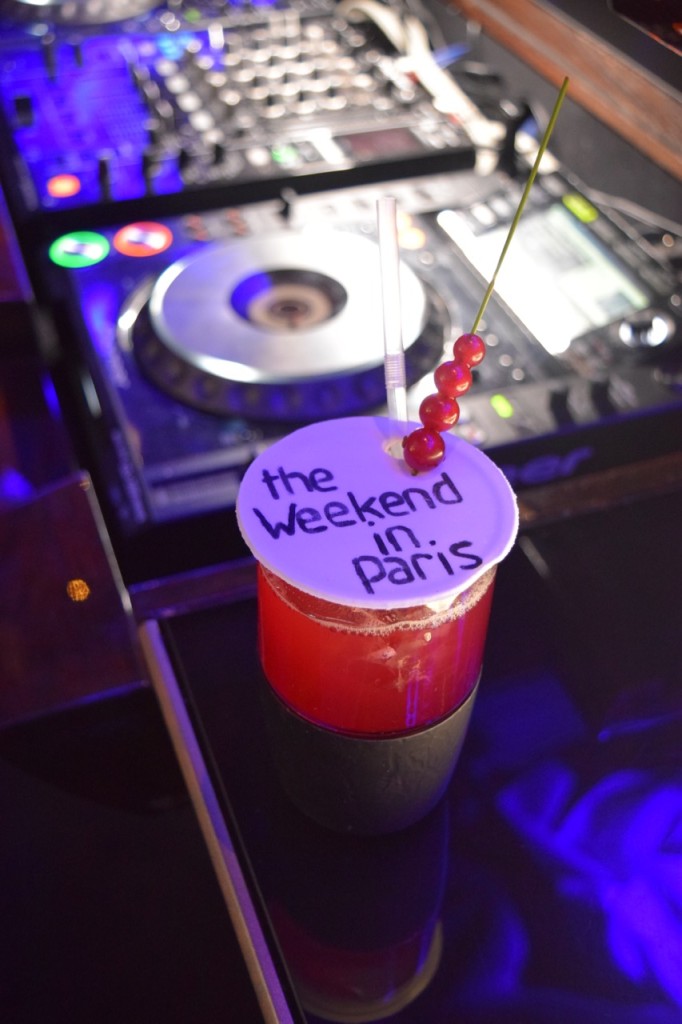 I have a millennial taste in music however, I hated most of the songs being played, not because I am slightly out of my 20's (ahem) but because I personally detest lyrics where every other word is the F word and I find it completely offensive when they use the N word at all. There are clean versions of the songs so why not use them?
Turning the tables back to a more traditional note. Lunch at Alain Ducasse's restaurant inside the Plaza is something pretty special and yet ordinary at the same time. The décor is spectacularly over the top with grand crystal chandeliers and brightly shining tableware and furniture. The cuisine is gastronomical for sure, but ordinary in the sense that the dishes are "back to the basics" of cooking. Sourcing local ingredients that are in harmony with the planet and are as natural as possible is the goal for this restaurant. The research performed to choosing producers of proteins, fruits and vegetables is extraordinary. Don't take my word for it, check out the interesting 15 minute video at the end of this article featuring Alain Ducasse that shows you exactly where and how he procures the products for his restaurant and to understand why it is a healthier way to live for those who farm and consume organically.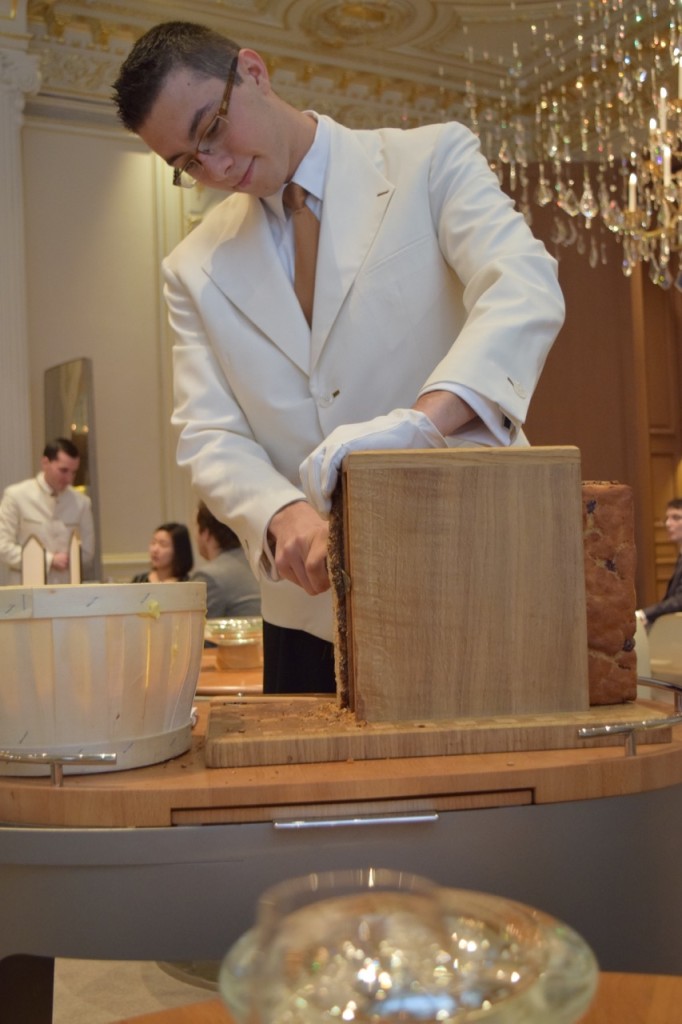 Not only does Head Chef Romain Meder make sure that the products are organic, he also pays attention to the ever growing need to cater to special diets to satisfy clients. When I went wheat-free I thought I would die in France without tasting freshly baked bread. When the cart rolled over and the waiter cut a fresh slice for Christine I was seriously jealous. I adore French salted butter and would miss that too without anything to spread it upon. Imagine my delight when next the waiter carved another boule and presented me with a piece of warm, soft gluten-free bread. It was every bit as good as the "real deal," especially with the heaping portion of soft creamy butter I added.
The serving plates and bowls for dishes ranged from a simple black matte finish bowl for scallops with a cauliflower and cheese filled Brioche appetizer…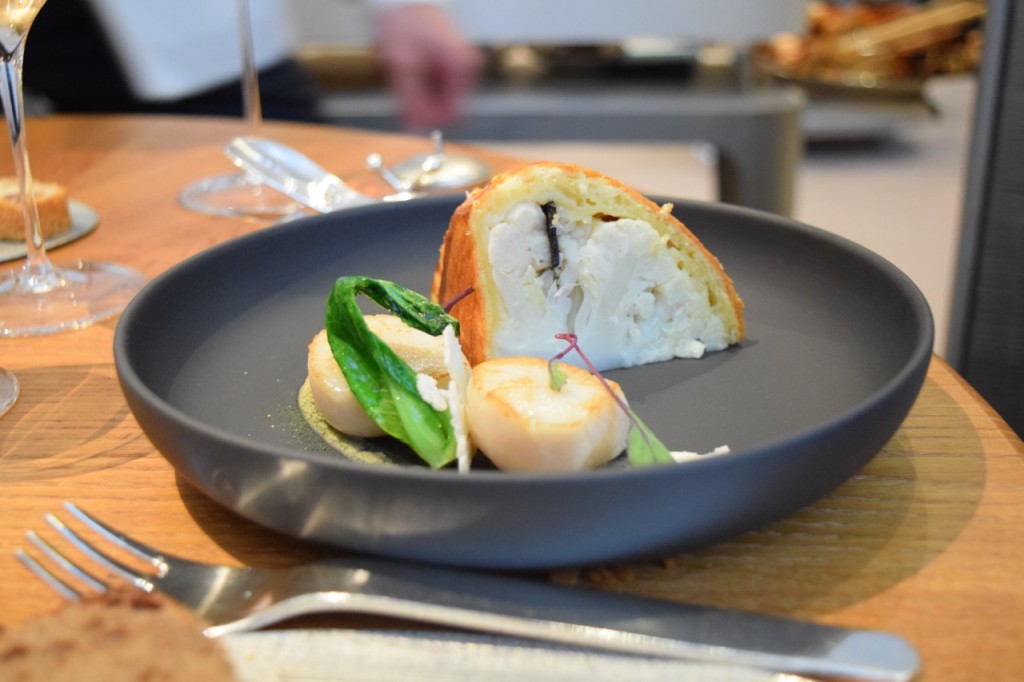 … to a slightly more decorative earthenware two-toned plate for swordfish medallions with pear shaped pumpkin and black truffles…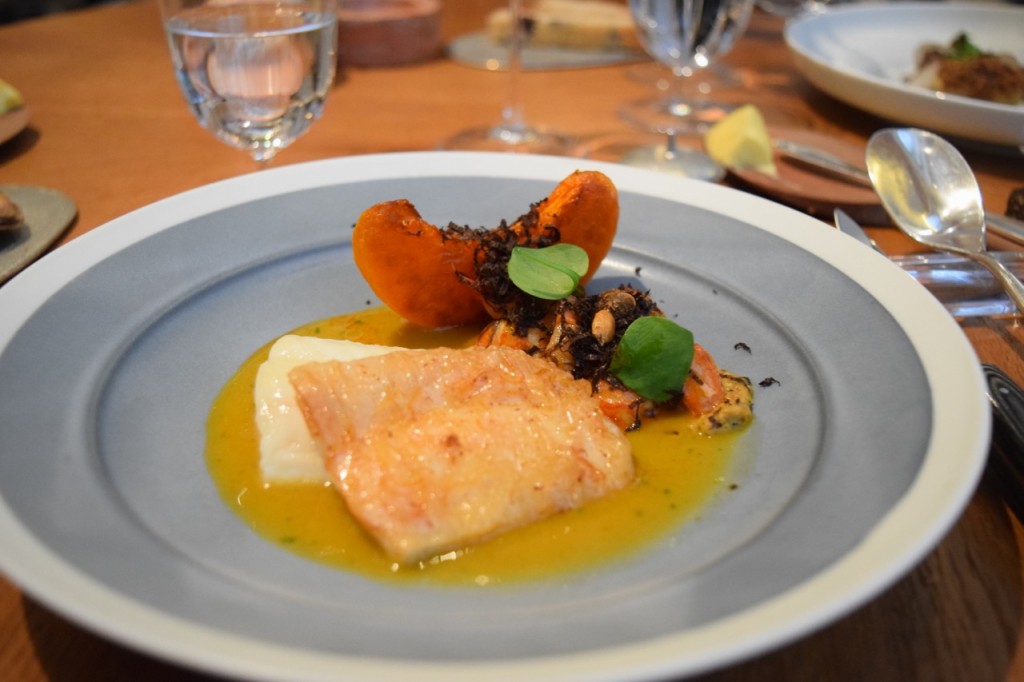 …to an elegant silver bowl for warm mussels…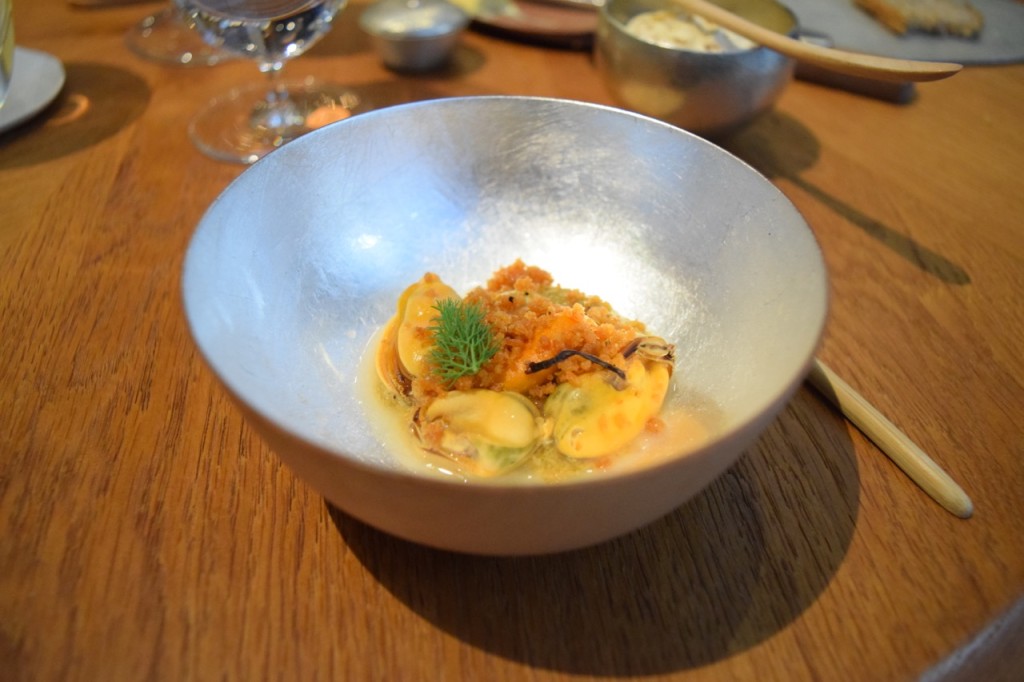 … and ending with an unusual Buckwheat ice-cream with chocolate sauce dessert in a cocoa pod for Christine's dessert.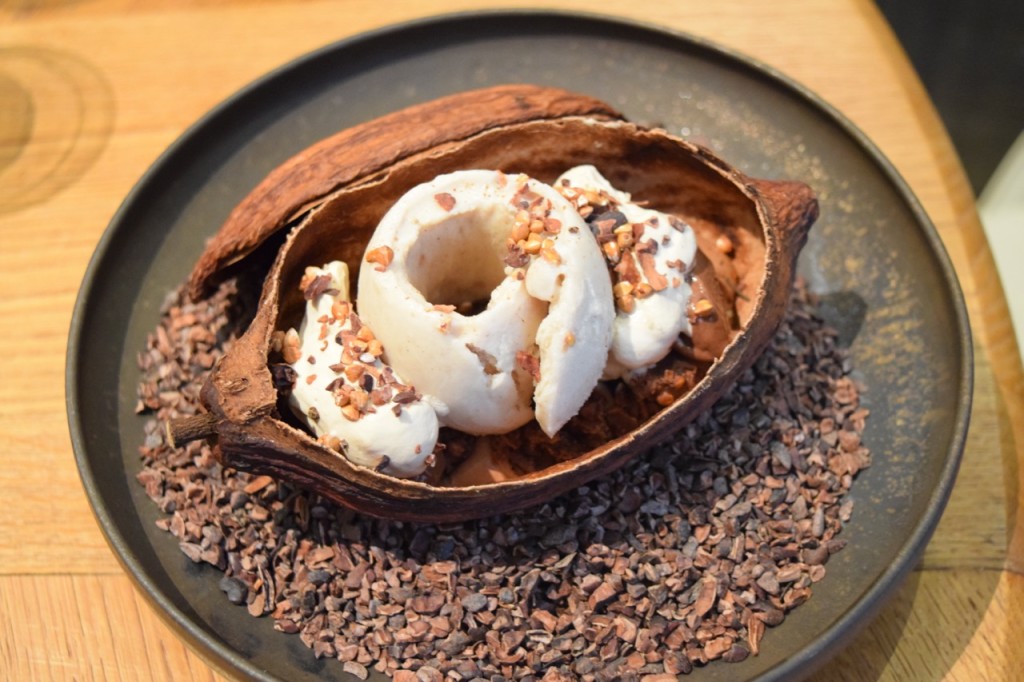 Plaza Athénée
25 avenue Montaigne
75008 PARIS
My stay was complimentary, but my opinions are always my own. No amount of schmoozing or wining and dining can sway me away from my honest thoughts.