14 Jan

Paris Packing Made Perfect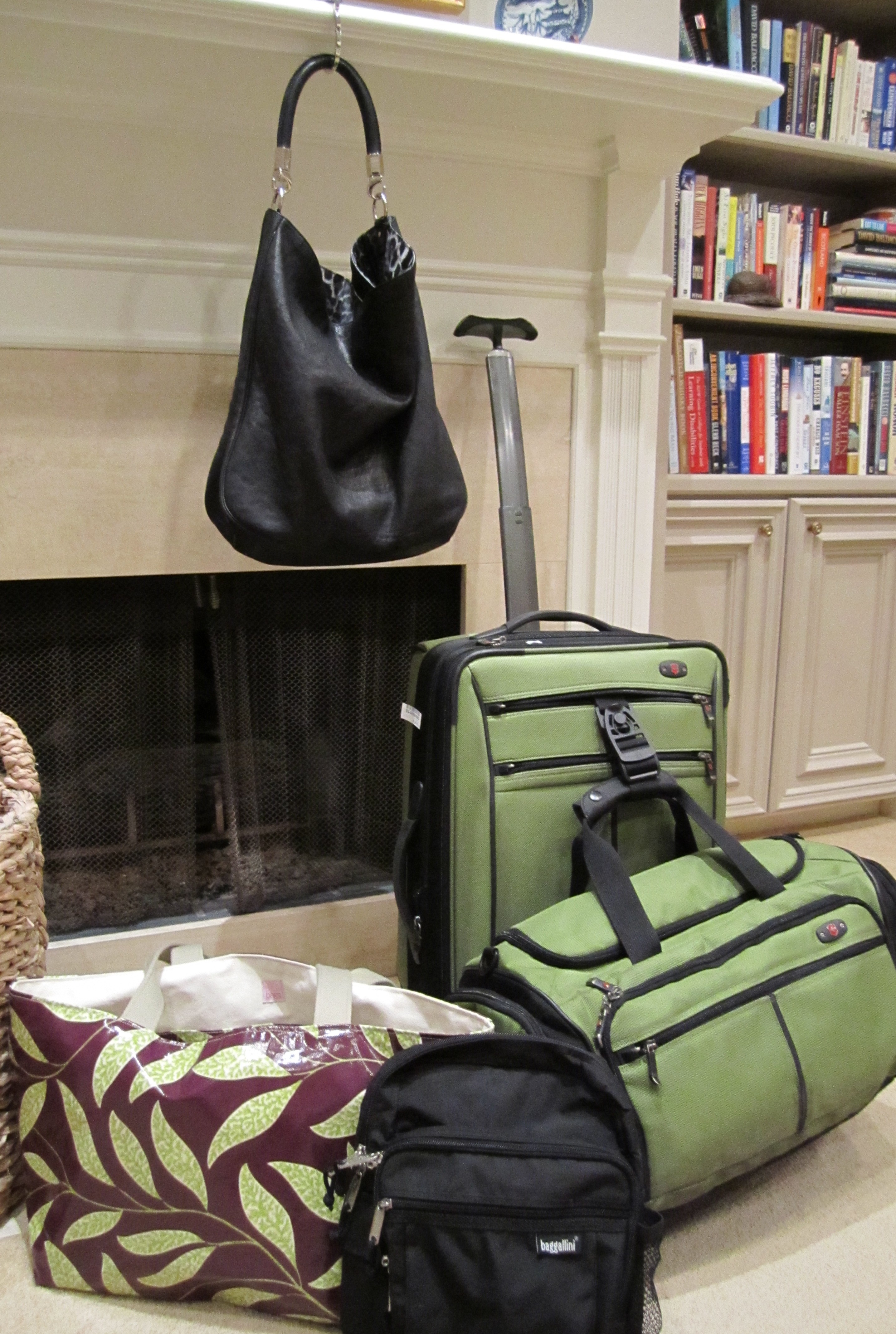 The perfect luggage to travel to Paris must include bags that are compact, fit in the overhead on the way over, but can endure baggage claim abuse on the way back.  My philosophy is simple – pack as little as possible and carry-on for the way over so that you don't have to waste time in Paris claiming bags or risk having your luggage not show up at all, thereby wasting precious Paris-time shopping for underwear and socks instead of that fab handbag you see in the window!
Strategy:  Five bags!  Five bags you say?  Wait, read this and see the photos to learn how my five bags are easier and lighter than your two!
Bag One:  Pack clothing in the Swiss Victorinox rolling bag for the way over.  On the way back it can be expanded since it needs to be checked upon return to the United States.  Unlike the U.S., Europe will not allow large carry-on bags so even though the bag can go aboard to Paris, it will not be possible on the return trip home. 
Bag two:  Eco-Friendly, BEA collection collapsible long shoulder strap open bag that folds flat.  I pack it on top of my clothes inside the lime green roller bag.  I won't need it until the return and it fits nicely without crushing my garments.  It will house my laptop w/charger, neck pillow, YSL handbag, headphones, duty-free lollipops for Mrs. Zehawi (my son's French teacher from middle school who uses them for treats for her current students), and my cell phone with its charger.  Gal Pal Lisa brought me the fab BEA bag from London last year!
Bag three:  The accompanying Swiss Victorinox lime green duffel will house my new Aqua Italia black boots, universal blow-dryer, converter plugs, toiletries, brush, neck pillow, laptop, power plugs, headphones, and YSL purse.  It will house the now unnecessary Baggalini shoulder purse and more heading back home as many goodies are to be had with the great soldes (sales) happening right now.
Bag four:  The Baggalini shoulder purse.  Practical as it is ugly, this shoulder organizer has been back and forth to Europe a dozen times.  It holds all the essentials and keeps my valuables secure while on public transport or on crowded streets.  The large compartment has zippers that close with a combination lock to ensure no pick-pockets make their way inside.  It saves my back and torn shoulder tendons from strain.  When empty, it lies flat to stow away in my checked bags for the ride home.
Bag five:  My large, YSL shoulder tote!  Tres chic and really practical because it hold a ton of stuff!  It will be used at night when we are headed out to dinner and for the way home when I need a little more storage for carry-on items.  Although it seems quite large, it is also fairly collapsible so it can fit inside the green duffel bag for the way over meaning that I am still only carrying two bags at any one time! 
Voila!  That is my strategy for packing for Paris and I'm sticking to it!