11 Dec

Paris Contest Winner!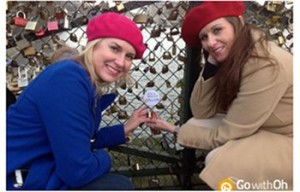 I never win anything…I don't bother with the lottery and I sure don't gamble more than $20 in Vegas, but I did win a contest having to do with Paris! The European Vacation apartment rental company Go With Oh held a contest where they gave away a month-long trip to Europe. Bloggers vied for this coveted trip of a lifetime and my friend Leah of Leah Travels blogging fame won. She chose a fellow blogger and fun gal Lauren of Lola's Travels to be her companion on her voyage to Prague, Italy, Barcelona, Paris and London.
As Leah and Lauren made their way to each destination, Go With Oh followed them and asked followers of their escapades to make suggestions for "Dares" or "Tips" for use in each city. Based upon a blog post I wrote earlier this year on the "Locks of Love Parisian Style," my suggestion for them was to place a lock on the bridge Pont de l'Archevêché in Paris. People place the lock on the bridge to symbolize their love and desire to be "locked in love" until they return. This tradition is not limited to lovers, tourists also place locks on the bridge as an insurance policy that they will visit the City of Light again. Lauren and Leah placed such a lock and Go With Oh chose my idea as its winner!
Thank you to Go With Oh for my Amazon gift certificate! I will purchase something travel related for my upcoming trip to Paris, Nice, Monte Carlo, Milan and Venice in January. Thanks to Leah and Lauren for liking my idea and carrying it out. Because of you I am now officially a WINNER!
Photo courtesy of Go With Oh. Must obtain permission before use.