26 Feb

Outside Paris: Hotel Sofitel, Dijon La Cloche
As is our habit, we gals usually take a short side trip away from Paris to experience more of French culture.  Lisa was with me on this short jaunt from Paris to Dijon.  A speedy one hour and 20 minutes from Paris' Gare de Lyon to Cresuot Montceau Montchanin TGV station in Dijon, taking the train is the most convenient and scenic route.  Although the short walk from the train station to Hotel Sofitel was a bit cumbersome trailing our rolling luggage behind us dodging construction crews, we managed to arrive at the hotel with little hassle. I foresee the new tram system from the TGV station to the city center as being a huge help once it is completed.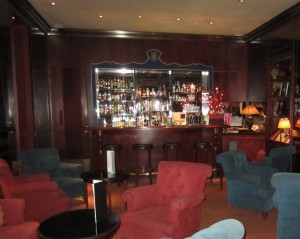 Conveniently located within short walking distances to tourist attractions, museums, restaurants and great shopping, this hotel was terrific in most categories and proved to be an excellent value.  I rate this Hotel Sofitel an "A-" and here's why:
The front desk folks were welcoming and knowledgable which set the tone for the rest of our stay. The lobby was a mixture of crystal chandeliers and contemporary furniture with warm, but vibrant colors that was very cheery despite the cold, drizzly January weather.  The lounge area looks out onto green space and gardens.  I could imagine how beautiful this space is when spring arrives and the flowers are in full bloom.  Off the lobby is a cozy fully stocked bar with comfortable seating for a terrific late night aperitif.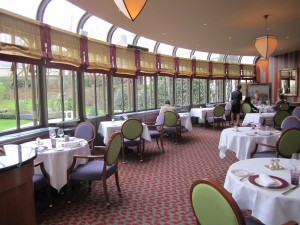 Adjacent to the bar and lobby area is a fabulous restaurant aptly named Les Jardins de la Cloche. Under a glass roof, this place reminded me of the former great Tavern on the Green in New York City.  Although much smaller, it has the same ambiance of being outside when you are inside.  (Food review coming shortly!) Below this area of the hotel there are function rooms called the Caves.  These spaces resemble wine caves found nearby and are perfect for tasting some local Burgundy in both large and small groups.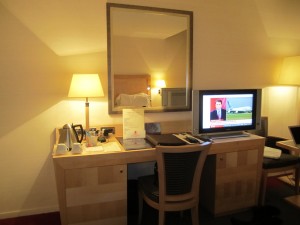 Our room was quite spacious, with modern amenities like free Wifi, a lighted makeup mirror in the bathroom, individual reading lights by the bed and a stocked minibar.  There was an efficient work space, and a sitting area for having a proper cup of tea.  We had a great balcony overlooking the park across the street and double pane windows and French doors ensured that our room was quiet for sleeping.  The lavender-scented bed linens are ultra luxurious and soft.  It is the kind of bed that when you drape yourself inside the duvet you keep wishing that you could transport the whole ensemble back home. Do I sound ecstatic about this room?  I am, save the bathroom.  It is a complete buzz-killer.  Unfortunately for Sofitel, the L'Occitane goodies on the vanity could not hide the seriously outdated counter tops, under the sink holes by the pipes or the mold showing on the shower ceiling.  In addition, the bathroom was down right chilly.  There was a small heating unit next to the commode, but it was not working.
Booking online allowed me the flexibility to keep an eye on the special deals. Not intimidated by the 5 star rating, I kept checking back until a reasonable rate appeared which included their amazing full buffet breakfast. Our room rate was $250 per night all-inclusive which we split.  So two nights at this fab 5 star cost me a total of $250. Pretty impressive deal for Europe.  There are plenty of other hotels in the area to choose from, but if you are going to splurge, then I'd definitely go with the Sofitel brand.
All photos property of Weekend In Paris.  All rights reserved.