29 Aug

No Need to Call a Taxi in Paris, Just Snap!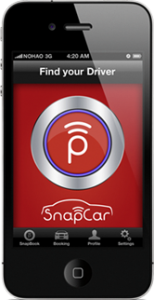 Always in search of the latest and greatest tools to make my travel in Paris easier, I have found a super cool way to get around Paris in the rain or when my feet can't walk one more block and the Métro is too crowded. SnapCar promises to find me quickly and deliver me safely with just a click of a couple buttons. I have already downloaded the App onto my iPhone in anticipation of using this product on my next trip and have been in touch with their marketers to secure a discount for my readers in case you want to try it.
What is SnapCar? Here's a quote from their website, "SnapCar is a mobile application with a network of chauffered vehicles that will pick you up on demand: in two clicks: With SnapCar, you don't need to know phone numbers, wait on hold, or keep your arm out on the street in the rain. Click on SnapBook…and we're there. With SnapCar, it's so easy and pleasant to get around that you'll wonder why it hasn't always worked this way."
Special features include:
SnapPlan: you can book a SnapCar for later.
SnapLive: you can choose a playlist that will be displayed when your SnapCar arrives.
At any time you can share your route with your friends. They can see your location in real time.
A baby seat available for children on board.

How can my readers take advantage of the discount? Simply follow the instructions below and use between September 3, 2012 and September 30, 2012. The actual launch date to the public is September 10th so you will be among the first to try this service out!
– Download the app from the App Store onto your smart phone
– Enter the promotion code weekendinparis (section of Settings / My SnapCar)
– Your 7€ reduction (for your first booking) will automatically be credited to your booking.
Please let me know how you like the service and comment below. All feedback is appreciated before I try it for myself!