10 Jun

My Paris Movie Video of the Salvador Dali Exhibit in Paris

Come with me to the Pompidou Center for a tour of the recent Salvador Dali Exhibition in Paris:

This past January my group of friends, the gal pals, were patient enough to wait in line in the rain with me for over an hour and a half to see the Salvador Dali Exhibition in Paris at the Pompidou Center. An amazing collection of his best works was gathered from around the world and on display for the public for a short time. Such an unusually large collection created a buzz around Europe and people flocked to Paris' multidisciplinary cultural center to view his masterpieces.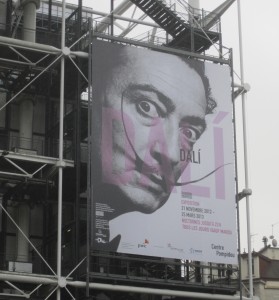 The exhibit was very interactive – movies to view and a fun green screen where we sat upon a replica of Dali's Mae West's pair of lips sofa where we became part of the show. Christine and I witnessed many a Dali-lover sit down and put their hands up in the air seemingly random. Upon second glance, we realized that when viewed upon the big screen in front it looked as though the patrons were picking the nose of the art piece behind the couch. It was hilarious, so hilarious that we had to give it a try ourselves. Carefully watch the video till the end to catch our funny ending to our day at the Pompidou.
A special thank you to Grégory from My Paris Movie for spending the day documenting our visit to both the Pompidou, but long afterwards when we hit Café Flore for a much-needed glass of Bordeaux. My Paris Movie is a fantastic service that captures memories for first time and long time visitors to Paris. I will be filming with My Paris Movie again this July and can't wait!