16 May

Locks of Love Parisian Style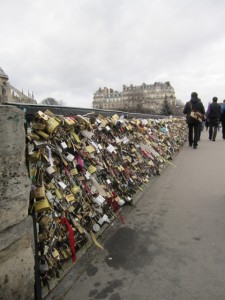 Much has been written about the padlocks of love attached to Pont de l'Archevêché in Paris. Couples in love write their initials or messages on them and affix them to the bridge symbolizing their desire to stay locked in love and return in the future. Many think it an eyesore, but I love the idea! To me it's a huge ongoing modern art project built with love – what could be more beautiful than that?
Location of Pont de l'Archevêché: The bridge links the 4th Arrondissement, at the Île de la Cité, to the 5th Arrondissement, between the quai de Montebello and the quai de la Tournelle.
All photos property of Weekend In Paris. Permission must be obtained before use.