05 Jun

Paris' Best Fine Dining Outdoors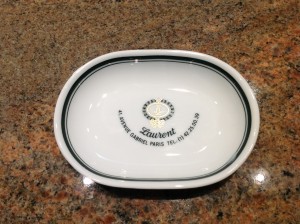 Never a more pleasant and relaxing dinner have I had than outside in the gardens of the Michelin 1 star restaurant Laurent in Paris several years ago. My husband, his colleagues and I sat outside on a gorgeous spring evening to a gastronomical feast that was not only pleasing to the taste buds, but to the eyes as well. Works of art! That is how I would describe each plate as it made its way to our table. There was much discussion about each persons' plate before we dared even take a bite and disturb the colorful canvas set before us. Never has art tasted so good!
We opted for the set menu which included six courses of exquisite mouth-watering creations. The only problem we had with our meal was trying to refrain from licking our plates – a definite faux pas in such a refined and elegant restaurant. The sommelier helped us pick some perfectly paired wines to accompany our feast. We began with a glass of champagne followed by some outstanding Burgundy.
The service was impeccable as expected, but what amazed us more was how charming and sweet the manager Philippe Bourguignon was to us. He checked on our group to confirm our evening was spectacular. When I inquired about the location of the restroom, he walked me there and showed me back to the table. At the end of the meal, I was raving about our experience and how I wished I could have a memento of our time there. He winked, and grabbed my hand and put something inside it. I waited until we were out the door and inside the taxi before checking it out. Surprise! It was a porcelain china ashtray with the emblem of the restaurant. It sits beside my sink and is used as my soap dish. I use it every day and thus think of Laurent daily. Merci Philippe and to the entire staff of Laurent for making my meal one of the most memorable of my life.
All this perfection comes at a steep price; plan to spend $200 per person plus wine. It is a place for special occasions or generous business expense accounts. If the dinner prices are too rich for your blood, try the less expensive option of having lunch there. Just make sure you do not skip this gem when visiting Paris. It is worth saving your pennies, or skipping a few meals to dine there. Luxury travelers will want to put Laurent's phone number in their speed dial. It is a "sure thing" for a fabulous meal.
Why don't I have any photos? At the time, I was not writing my blog and documenting my every move. My husband takes most of the photos and did not bring his camera to dinner that I recall. I will have to ask Mr. Weekend In Paris if there is something floating around. If so, I will update this post.
Restaurant LAURENT 41, avenue Gabriel 75008 Paris
Tél: +33(0)142250039 Fax : +33 (0) 1 45 62 45 21 Email : info@le-laurent.com
Métro : Champs-Elysées Clémenceau / Franklin D. Roosevelt