21 May

Ladurée Macaroons Going Global?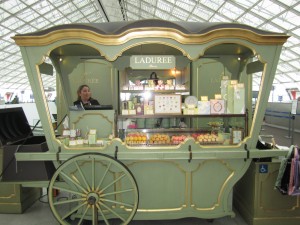 Ladurée, Ladurée, Ladurée…the most well-respected name for macaroons in town – Paris that is, but if President David Holder has his way, people all over the globe will be demanding home-town versions of the colorful, perfectly crafted creations. His goal, "to introduce this century-old name in the main capitals of the world and develop new business opportunities." In this global economy it's no wonder the Holder Group wants to exploit the earnings potential of the famous name, but the million dollar questions is, will it work?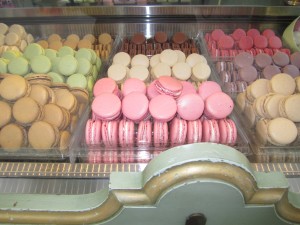 Full disclosure, I don't love macaroons. I only recently started to like them. I find them fussy and a bit lacking in full-bodied flavor for a dessert and sometimes not worth the calories, but I am nonetheless drawn to the shops (the shop on 16 rue Royal was originally decorated by Jules Cheret) like a moth to the flame. No matter what location you find macaroons in, they are always displayed either in neat little rows or on pyramids where the bright and cheery colors scream "happiness" at you. One does not normally think of the French as happy people (and I am a quarter French), so I always imagine that buying their favorite color or flavor macaroon is their way of grabbing a little slice of happiness. I wholeheartedly appreciate the "art" of the macaroon and I delight in seeing them lined up so perfectly in the pastry shop windows. My A-type personality really loves the "orderliness" of the whole experience. Ladurée has ALWAYS had the best presentation of their pastries and most beautiful packaging!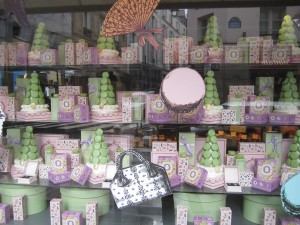 Recently, I have been spreading my culinary wings and tasting macaroons from various patisseries around Paris and finding some serious competitors to the Ladurée brand in terms of presentation, quality and taste. Most are succeeding at grabbing the attention of the younger generation and many are also making inroads into converting Ladurée "old guard" customers into new clients. I suspect the Holder Group would like to capitalize on its name recognition and pounce before other brands too, become household names and enter the global marketplace. If Ladurée does go global, will the locals still see them as "French" or will they abandon the brand because it is too commercial?  Will the Ladurée macaroons become the worldwide standard macaroon like the Big Mac is to burgers? Perish the thought of anything French being mentioned in the same sentence as McDonald's! Sorry for my faux pas!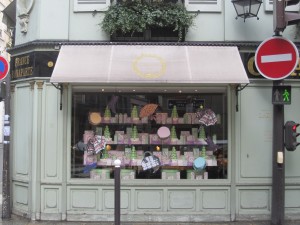 To me, part of why I love the Ladurée brand is that I can only get it in France. The "Frenchness" of the confectionary treat is a huge part of the attraction. If I were to encounter a cart (similar to the one see above at the Charles de Gaulle Airport) in Hong Kong, I would smile, but walk on by empty-handed with the following thoughts racing through my mind. Would they be made in Hong Kong? That would be disturbing. Would they still be made in France and shipped over? Who wants "old" macaroons? I guess the people in Hong Kong might love them and buy them, but I wouldn't. Needless to say, David Holder doesn't care if I love or hate the idea; he is in the business of making money. I don't fault him one little bit! Go for it I say, let the markets rule. C'est la vie as they say in France!