26 Mar

Inside Scoop from the Concierge at the Hôtel Palais de la Méditerranée in Nice

Where to stay, what to do, where to eat in Nice? These are all great questions! Experienced concierge Elenor at the Hôtel Palais de la Méditerranée gave me the inside scoop. I was in Nice for only one night, so. knowing I did not have enough time to "do it all" I wanted her advice for my next visit and for you my readers. I also wanted to know more about the work of a concierge in one of France's hottest tourist spots. Here's what Elenor had to say:

Weekend in Paris: What is a perfect day in Nice for a first time tourist?

Elénor's Response: Early in the morning, go to the old town and walk through the flower market, then take the stairs to reach La Colline du Chateau (don't look for the castle, there is no more) and enjoy the view over the city. On the return back from the old town, have a quick lunch at La p'tite Cocotte. Another great thing to do is take the bus to reach the Matisse Museum, and walk by the garden of the Medieval Monastery which is nearby.

Lastly, come back to the Promenade des Anglais and enjoy the sundown with a drink at Castel Plage, and then finish the day with a perfect diner at Luc Salsedo restaurant. Their menu from the market is prepared by a highly knowledgeable chef who is, with his wonderful wife Christine, not at all pretentious and genuinely generous.

http://www.restaurant-salsedo.com/fr_FR/

Weekend in Paris: For people who have the need to relax in Nice, what Spas do you recommend:

Elénor's Response: The two best ones on the French Riviera are Les thermes Marins in Monaco which is the top in terms of treatments and the Le Grand Hotel du Cap Ferrat, the top in terms of location where you have the possibility of receiving massages outside in a private cabin, by the shade of the pines looking over the sea!!!

http://www.thermesmarinsmontecarlo.com/?lang_nav=en

http://www.grand-hotel-cap-ferrat.com/uk/index.php#spa-presentation.php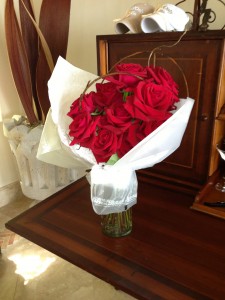 Weekend In Paris: What is one of your most unusual requests?
Elénor's Response: The request in itself was not unusual, but the purpose… a request of an electric fan, for one of our guest's spouse who could not fall asleep without the noise of a fan by the bedside table… maybe a good idea for the development of an iphone app!
Weekend In Paris: What was your best day on the job so far?
Elénor's Response: A few days after I started working as a concierge assistant, the concierge on duty informed me that there was a bunch of 100 red roses waiting for me in the back office. It was from a client for whom I did organize 100 red roses for his fiancée the previous day. That was amazing!
Weekend In Paris: What is the best local bar?
Elénor's Response: The bar at the Negresco Hotel; historic place with a nice cosy atmosphere and has a great pianist.
Weekend In Paris: Nice can be quite expensive. What is your recommendation for the best cheap place to eat?
Elénor's Response: La P'tite Cocotte in the old town of Nice has a fresh menu according to the market and is well prepared by the chef Cedric and nicely served with a genuine smile by Jessica.
http://www.la-ptitecocotte.fr/
Weekend in Paris: If I want to splurge on a great meal, what do you recommend?
Elénor's Response: It's not exactly "luxury" but definitely "La Petite Maison", is the place to go while in Nice; perfect local cuisine in a wonderful trendy, crazy atmosphere! It is the most well-known restaurant abroad, because of Nicole who is quite a character!!
http://www.lapetitemaison-nice.com/

A note from Priscilla: Thank you Elénor for taking the time to let me interview you for The Weekend In Paris. You were so helpful to me when I visited! For my readers: I stayed one night at the Hôtel Palais de la Méditerranée and absoulutely loved it! I recommend it for a fab location near the sea, walking distance to great restaurants, bars, shopping and the flower market. The staff were very professional yet warm and helpful too!
All photos property of Weekend In Paris unless otherwise noted. Must obtain permission before use.