31 Jan

I Do Declare…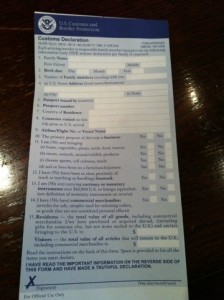 When it comes to the US Customs and Declaration form, I do declare everything I purchase abroad. Yes, everything I bring back into the US goes on that darn form. When I purchase an item overseas I put the receipt in a special section of my wallet. Then, prior to packing for my return home, I put all the items together and take inventory. When I pack the suitcase all those items go on top thus closest to the opening. Upon departure from Paris and requesting the VAT tax refund, you must be prepared that the French may demand to see the items. Keeping the articles in one spot and on top in your luggage will prevent you from the embarrassment of rifling through your bag exposing your delicates in public to seek the requested articles.
Once I am on the plane, I simply take out my inventory list and/or my receipts and fill out the declaration form. Easy as pie. Invariably, when I am traveling with someone they will ask me. "Do I have to declare" such and such? I always tell them that I declare everything, but do what you want. Then typically a short discussion ensues about what is the individual allowance? (It's $800 by the way – not Euros!) Followed by, "Does the stuff in Duty Free count?" (It does count towards your $800.) I used to be that person asking because I traveled less frequently, but have always erred on the side of extreme caution. When in doubt, write it down. I did this for over 20 years and was never stopped.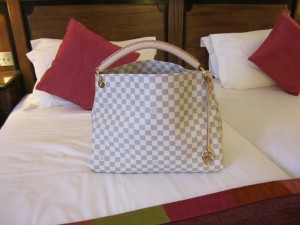 What happens when they pull you to the side and send you behind the secret wall? Well, now I know! I was stopped this past trip, damn that Louis Vuitton "forever" bag. It flagged me for sure. I did not sweat it though because one, I had declared everything and two, I was prepared to pay any duty owed without a fuss. The young Asian girl next to me with a suitcase full of dubious electronics was in a complete panic and I felt sorry for her. My nice Customs Official went through my list, looked on his computer to see what applied to the $800 and I offered to show him any and all items in question. In the end, it was determined that I was totally fine and owed no duty. It pays to be honest the official said and I could not agree more.
Do you declare everything?