04 Mar

Goodbye Métro, So Long Paris Taxi Cabs, Hello SnapCar Paris Travel App!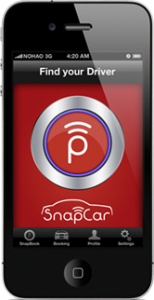 Last fall I read about the smart SnapCar Paris smartphone app that would allow you to book a driver with two simple clicks of a button and downloaded it to my iPhone 5. It seemed pretty cool, but would it measure up to the hype?
Once I arrived in Paris, I clicked on the SnapCar button where it instantly plotted my location on a map and showed me where my driver was in relationship to me. "Slick!" I thought, "But would it actually work?" Next thing I knew a message popped up saying my driver was on his way and would arrive in four minutes. "Amazing!" I said to my pals traveling with me, but wait there's more…then a window popped up showing a headshot of our driver along with his name and told us what make, model and color of car he was driving. "Bananas!" was all I could say. Four minutes later there was a sound of an old fashion car making the "Beep, Beep" noise announcing our ride had arrived.
We were greeted with a friendly smile, gave him our destination and were on our way. French music played in the background, as requested via the app, and bottled water was in the door cubby of our luxury car. We arrived at our destination in no-time and hopped right out; no tipping (it's included), no reaching in our wallets for fare money (you put your credit card on file when you sign up for the app). It was strange at first to not tip and pay, but we soon got used to the routine and found it freeing. An electronic receipt was placed into my profile that helped me keep track of expenses and exact details. Had I needed records for business, it would have proved extremely helpful. No more trying to keep track of little pieces of paper shoved into a coat pocket or stuffed inside a bulging wallet, it is all electronically documented!
If you already know ahead of time that you need a car at a certain time, there is a feature allowing you to schedule a ride in advance, but you must book at least 1 ½ hours ahead of time. This is very handy for client meetings, dinner reservations and appointments of all kinds. What was not an option until last week, is now fully functional – the ability to make multiple bookings at one time.
Close to perfect, this service comes with a couple of caveats. Each trip will cost you a minimum of 15 Euros. So, if you have a short ride it is not as economical as the Métro or picking up a taxi off the street. Also, sometimes, because the company is new and does not have as many drivers as they would like to have on the road, you may occasionally receive a message that a "driver is not available at this time." The founder assured me that with the next app update you will no longer be kept guessing about how long it would be for a driver to become available. New technology will put you in a queue, allowing you to decide if you can wait for a ride or seek alternate transport.
A very important thing to understand is that, while it works on WiFi, once you leave a WiFi area you will no longer be able to communicate with your driver. You must then turn on your data. Why is this important? When you place your request for a car, your location goes to the driver via GPS, which only pinpoints you to within a certain distance. You might be on one side of a street and a few feet ahead of where the GPS is telling your driver you are located. Standard protocol is if you have not already messaged the driver with your exact location (for example, 10 rue Buci in front of  Café de Paris) then he will try to text you when he arrives. You won't hear the "Beep, Beep" arrival sound on your phone unless you have a signal and therefore you may not find each other.
I recommend travelers carry an International data plan to avoid expensive data charges. I used WiFi in most cases to call the driver from inside shops, hotels, and restaurants that had WiFi and saved my data for once I was on the street waiting. It worked wonderfully!  I added on an AT&T International data plan for the two weeks I was in Europe for $30. It was well worth it. Other individual carriers may cost less. Do your homework before you leave to save money.
What do I think were the best things about SnapCar Paris? For me it was a three-way tie between the ease of use, the quality of the drivers/cars (Audi's and Mercedes) and the safety aspect. As a woman traveling, there are times when my instinct tells me some thing feels funny or some place is unsafe. As a general rule, I don't take the Métro alone after a certain time of night unless I am with my husband and certainly not to certain areas of town. Taxis are not always available, particularly when it is raining, so I love being able to stay inside the venue and order a car as I am paying the check or saying my "good-byes" and have a safe mode of transportation on the way with just a SNAP. I am headed back to Paris in July and definitely plan to use SnapCar Paris again.
Although I was offered this service gratis, my opinions are my own. I have laid out the pro's can con's of using the service for you and I hope you find the review helpful. If you have any questions, please don't hesitate to leave a comment below and I will be in touch soon.
All photos are property of Weekend In Paris. Must obtain permission before use.