24 Feb

Navigating Paris with French Guidebooks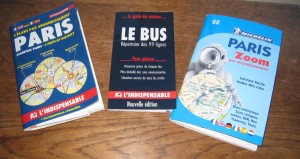 Navigating Paris by bus, metro and foot
by Contributor Margo Waite
Often I get calls from friends, or friends of friends, asking me about my travel experiences in Paris. They want to know what French guidebooks are the best, how to get around in the city of light, and what pre-trip reading they should do. While many Weekend in Paris readers are experienced travelers, I hope you find these suggestions of interest. And of course I'd love to hear your tricks that make your travel less stressful.
For exploring Paris, we use three (yes three) paperback books, since we are public transportation mavens. Although we walk an average of 12,000 steps a day while we're there, we still need to take busses and le metro. These books make it possible for even someone with a smattering of French to explore Paris like a native.
LE BUS has maps of all 99 bus routes. Paris Zoom provides clear and detailed maps by arrondissement, indexed by street names. Paris, 3 Plans Par Arrondissement, shows street maps, bus stops and metro stations and has an index. It's the one we carry at all times, but the others are helpful too in planning your day's travel. With our books we navigate public transportation systems with a minimum of missteps and confusion.
Other books are those that we read in the evening, as we relax and make plans for the next day. If you love the food and restaurants of Paris you'll want Markets of Paris, by Dixon Long and Marjorie Williams, covering "food but also antiques, crafts, books and more…with restaurant recommendations". Another indispensable volume is Clotilde Dusoulier's Edible Adventures in Paris. Need I say more? And for touring museums, churches and monuments, I like that standby, DK's Eyewitness Guide to Paris. Particularly good are their guided walks around Paris—always something new to discover here. And finally you may want to pick up the 0.50€ paperback L'officiel des spectacles at your local Parisian news agent. It's published weekly and although it is in French you will find it easy enough to figure out the times and locations of theaters, festivals, cinema, activities for the young, concerts, museums and galleries and more.
And for reading on the plane, Paris Was Ours, by Penelope Rowlands, features 32 writers musing on their thoughts and discoveries in this most alluring city. My favorite line is from Diane Johnson. "You can almost tell how long an American…woman has been in Paris by whether she's wearing a scarf, only the most obvious sign that cultural reprogramming has begun."