18 Dec

Four Is The Perfect Number for a Girl's Getaway to Paris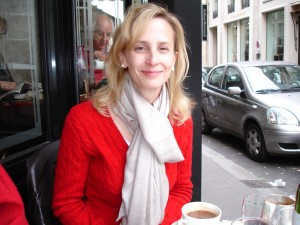 The stage is set, the last of the Gal Pals has committed to join me on the luxury trip to Paris this January. Veteran Gal Pal Christine will round out our table of four this year for Paris, 2013. As my readers know by now, I think that four is the perfect number for a friend's getaway to shop, eat and drink in The City of Light. Dinner reservations are easier with that number and taking tours is much more fun when surrounded by interesting friends. More than four people and it's difficult to "herd the cats" and get out the door each morning.
When Christine first made the voyage with me she was single and now she is a married woman and mother to an adorable little girl who will be a huge beneficiary of her mother's shopping frenzy. Christine's favorite beverages are chocolate chaud (hot chocolate) and vin rouge (red wine) – Bordeaux to be exact. Her mission this year is to check out the toy store Au Nain Bleu.
New hotel arrangements have been made to accommodate our group of four – a night at The Four Seasons followed by a couple of four star hotels to be announced shortly. Why the hotel changes? It's for you folks…I want to stay in different establishments so I can make recommendations for your future trips to Paris. I just love to try new places and review them for you. Thank you in advance fellow Gal Pal travelers Elizabeth, Karen and Christine who don't mind packing and re-packing to change hotels along with moi.
Photo property of Weekend In Paris. Must obtain permission before use.