11 Oct

Four Captives at the Louvre on this #FriFotos Theme of Three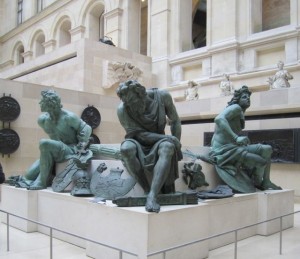 This week's Twitter Friday Fotos "FriFotos" theme is "Three" – any which way you can, play on the word three. Three little pigs, the three wise men, the three stooges. But alas, my mind always goes to Paris and so today I found an archive photo of three of the Four Captives at the Louvre by Desjardins in my Paris file to fit the theme. These larger than life bronze figures captivate the room with their presence.
Four Captives also known as Four Defeated Nations: Spain, the Holy Roman Empire, Brandenburg, and Holland are depicted in the scene, but only three could be photographed by me from the angle at which I was standing. Each expresses a different reaction to captivity: revolt (Holland on the left), hope (Spain on the right in this photo), resignation (Holy Roman Empire in the middle), or grief.
These men have captured my attention for many years when visiting the Louvre. They are located in the atrium in the Cour Puget in the Richelieu section on the lower ground floor. No matter the season or the weather outside, this room is always bright and cheery. It can make any gloomy day seem brighter in Paris. When the skies are gray, head on over to this area and spend some time soaking up the natural light. The experience will lift you up by replenishing your vitamin D deficiency; oh…and it will treat you to some of the world's best art on permanent display while you are at it.
All photos are the property of The Weekend In Paris. Must obtain permission before use.