21 Mar

Forever Locking Our Love of Paris and Celebrating Friendship

Much has been written about the padlocks of love attached to Pont de l'Archevêché in Paris. Couples in love write their initials or messages on them and affix them to the bridge symbolizing their desire to stay locked in love and return in the future. This tradition is not limited to lovers, tourists also place locks on the bridge as an insurance policy that they will visit the City of Light again.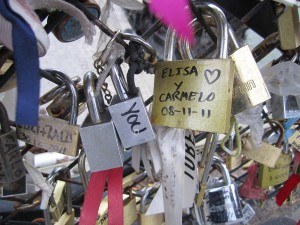 Most locks are simple in nature – bike locks, pad lock style, but no way would that be good enough for Gal Pal Elizabeth who hunted down the most incredible specimens you can imagine. She wrapped up four of them  in a beautiful package and gave them to me for Christmas, for she knew that in January there would be four of us friends traveling together. I laughed so hard when opening them up – for starters, they were huge and heavy. Who the heck wants to give up valuable luggage weight for a bunch of locks? Then I saw them and knew it would be totally worth it! They were the most bedazzled locks ever created in four different bright colors. No one could possibly miss these gems when walking past and we will be able to find them easily upon our return visit!
So the day came on our trip when we were supposed to place the bedazzled beauties on Pont de l'Archevêché and it was pouring down with rain. Not drizzling, but an actual deluge! We elicited the help of our kind SnapCar driver to pull over illegally and wait while we ran as fast as possible to the closest spot on the bridge to place the locks.
A smart move would have been to open the locks in the car, keeping the keys in them so we could close them easily one affixed to the bridge. Yes, that's what WOULD have been smart, but we didn't do that. We instead huddled closely sharing umbrellas in the freezing rain trying to figure it out. Loads of screaming ensued as the wind moved the umbrellas at will and dumped the contents pooling on the tops of them right on our heads. Cold shaking fingers fumbled as each of us tried to accomplish the task at hand. No one else was on the bridge (why would they be in this storm?) to take our photos with the locks. Imagine that? We were under the gun with the car parked illegally and now we had no one to document this feat! I tried to take a "selfie" photo of all of us, but when we got back into the car realized I had cut Karen out completely because my arm only reached out so far and we were not close enough together. UGH!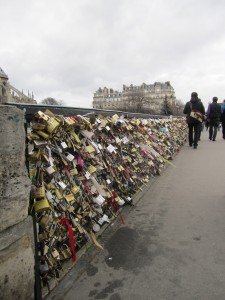 A few days later, the sun shining brightly, Christine and I were getting in some last minute shopping in the 6th and decided to poodle on over to the bridge to check and make sure the locks were still there. We took some photos as proof for Elizabeth and Karen that our friendship locks of love were intact preserving our hope to return to Paris together one day soon.
Thanks to Karen (Delta) Burke for taking one for the team by packing those heavy suckers in her luggage. She saved me a great deal of hassle lugging them around to Nice and Monte Carlo before meeting up with her in Paris and a special thanks for Elizabeth for being the best official lock shopper for The Weekend In Paris!
Fellow bloggers Lauren and Leah placed such a lock at my suggestion for a contest they were hosting for the apartment rental company Go With Oh! They had a great time in Paris and I know the locks were successful because Leah was back in Paris just this past week!
Occasionally the local government cuts the locks off the fencing, particularly when they get too heavy and threaten the strength of the wires. Many think it an eyesore, but I love the idea! To me it's a huge ongoing modern art project built with love – what could be more beautiful than that?
Location of Pont de l'Archevêché: The bridge links the 4th Arrondissement, at the Île de la Cité, to the 5th Arrondissement, between the quai de Montebello and the quai de la Tournelle.
All photos property of Weekend In Paris unless otherwise noted. Permission must be obtained before use.