09 Jan

Flying Solo: Nine Ways to Entertain Myself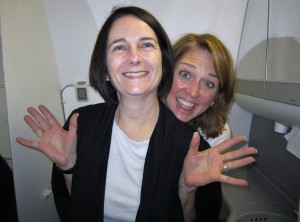 Well this is a first…I am flying to Paris solo.  No travel companion for the first time to Europe in I believe 22 years.  None of my US peeps are making the pilgrimage to Paris this year – a horrific tragedy for them and me!  The original Gal Pal Lisa is taking the train from London to meet me so she won't be able to entertain me on the plane.  I've got no alternative but to suck it up and fly solo.
Spending 9 1/2 hours solo heading over to Charles de Gaulle Airport is not a problem since my favorite flight attendant Sharon Conrad is working the flight and let's face it, I will sleep most of the time.  But it was way more fun last year flying with Gal Pal Elizabeth, from start to finish a laugh a minute.  On the way to Paris we convinced Sharon to take our photo in the plane lavatory in a funny pose to post on hilarious and infamous flight attendant, turned author, Heather Poole's blog photo contest entitled "Laviators." It's the return flight of 11 hours that won't be as much fun because there won't be anyone to reminisce about the trip with.  Worse than that, Murphy's Law for this Irish girl means that I will most likely score one of the "great unwashed" or "try to cover it up with hideous cologne" people as a close seat mate.
If History is any indication, here's how I will attempt to entertain myself on the return flight:
Transfer trip photos from the camera to my laptop, discarding any that are out of focus or make me look fat (duh)
Watch "D List" movies that will rot my brain a little and then switch to a foreign film to try to engage some brain cells following translations
Nap
Read part of a novel that I started on the way over, but have to skim from the beginning to recall character's names and the plot in general
Thumb through the SkyMall magazine and actually stop for a few seconds to ponder purchasing some cheesy item
Complete the "Easy" Soduko puzzle and attempt the Medium one, but leave it after 20 minutes of frustration
Read the entire inflight magazine, even the boring articles on places I know more about than their travel writers
Nap
Fill out the Customs and Declaration card in detail declaring every item purchased abroad that you are bringing into the US  (Yes, every item!  Not cool to be pulled over by Customs Officials and have your integrity in question over an undeclared bottle of wine.  That Bordeaux will lose its panache if you are sipping it with a memory of the old pat down and interrogation, won't it?)
I know you were all expecting a tenth item since people like the evenness of a "Top Ten" list, but no sense in making something up because I can't think of anything else I will be doing that's worth reporting.  And lest you think I am complaining, I assure you I am not!  I don't mind flying solo, but it sure is more fun flying 11 hours when you are with friends as reported before on my Giggling and Gagging post.