13 Aug

Wine & Cheese Entrepreneurs Turning Tradition Upside Down in Paris

Wine & Cheese Entrepreneurs take old traditions and turn them upside down in Paris

Who says there is a brain drain in France? All the best, young progressive thinkers have decided to stay in Paris and think outside the box. Didier Grosjean and Thibault Lhirondelle are two such progressives that are die-hard cheese enthusiasts. They took over ownership of the cheese shop at 38, rue Saint-Louis en I'lle on Île Saint-Louis two years ago and added their own hip twists and turns to update the age-old business of selling cheese. Gone are the dusty corners and crowded shelves. In are new display coolers and tins of specialties bearing the address. French and English are spoken equally well here and smiles abound.

The nondescript shop sits quietly on the street, however its owners are anything but as they enthusiastically market for newcomers to come in and give them a try. I say nondescript for the identity because there is no name for the shop – its awning on the front of the facade simply gives the street address. When I asked Thibault about the lack of a name, his comment was, "A little mystery is good for business, but really all the locals know the place." Thibault invited The Weekend In Paris to a wine and cheese tasting at 38 a couple of weeks ago. I must admit he piqued my sense of curiosity. I wondered how a new cheese shop would be accepted by the locals and if they could pull off a trendy marketing campaign in one of Paris' oldest neighborhoods.

Think Global, Act Local

Didier and Thibault are eager to share their love of cheese with locals, of course, because they are what keep the shop going during the long, dark, cold winter months when tourists disappear. But, they also enjoy tourists from all over the globe who visit this tiny little island in the middle of the Seine. Here, they love to help folks put together an impromptu picnic of wine (they open your wine and provide you with glasses), cheese, meat and bread. Bringing the two worlds together (locals and tourists), they embrace everyone who enters the shop and try to share their love of cheese, glorious cheese with the world. They want to be known as a welcoming place, where everyone knows your name – The "Cheers" for cheese.

On their travels, the goal is to find the best global cheeses that are ripe in the current season and bring them back to their petit island in Paris to sell. When they run out, they run out. They also showcase French cheeses from all the provinces and vow to never, ever serve a cheese before its time. They also promise to not waste time by waiting for what might be. Buy now, eat now is their motto!

The marketing strategy?

They only serve cheese that is ripe and perfect to serve immediately. They are not typical cheese artisans who store hundreds of wheels in the back room refrigerators aging. They are about today's demand for the best – immediately. Think about it, in this world of instant gratification, who wants to waste expensive refrigerator space to wait 30 years for a cheddar to reach its peak of perfection? Let the others boast about their ability to do this, 38 has a much different philosophy. The partners feel their niche is to have forged relationships with small farmers by visiting the cheese makers in their own habitats. The 38 partners agree to purchase the cheese only when it is already ripe and in the correct season to enjoy it. When it has reached its peak of perfection then they will buy it and sell it in the shop. They think local (Paris/France), but are also global opportunists. They once had a friend flying from China to Paris and talked them into bringing over a sample of Brillat Savarin à la truffe Comté that had aged 40 months. No extra miles were incurred procuring this cheese; it was simply hand carried by a Good Cheese Samaritan.

The glorious cheese spread we tasted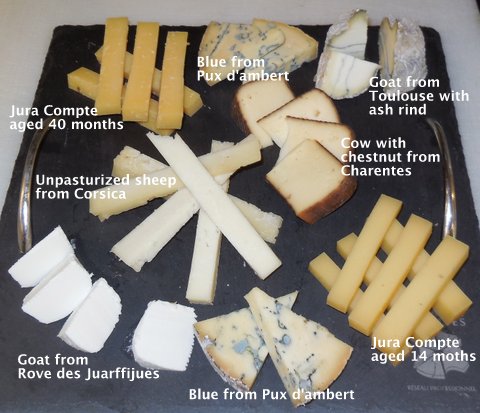 Our tasting was done rather last-minute as the shop was at the beginning phases of a renovation. The entrepreneurs were making more room for chilled display cases and stock items. I can't wait to return to see how the renovations turned out! If you are lucky enough to visit Paris in great weather, make sure you stop by and give the guys some outdoor picnic business and if it's cloudy pick up some hors d'oeuvres for your hotel room. I so love the idea of rewarding young entrepreneurs for their efforts of taking old world traditions and jazzing them up for the future generations.
Love the concept of 38? Follow them on Twitter @38SAINTLOUIS
38 rue saint louis en l'île 75004
Ile Saint Louis
All photos are the property of The Weekend In Paris. Must obtain permission before use.