29 Jun

Dream. Dare. Do…American Express Launches the Travel #PassionProject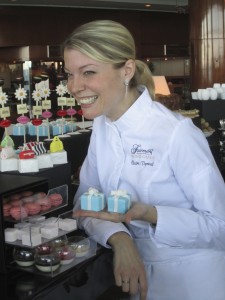 Travel is my personal passion. I have many dreams for future travel experiences. I don't just want to visit a city and take a tour, I like to get under the city's skin, meet the locals. Food and drink are an important part of enjoying the travel. I can't believe I haven't done this yet, but I would LOVE to take a pastry class in southern France from my idol – Chef Claire Verneil. Chef Verneil left a lucrative job as a lawyer to pursue her dream of becoming a pastry chef. Not only did she achieve her goal of becoming a pastry chef, she also became a huge role model for me and other women when she became the first ever female pastry chef at The Fairmont Hotel in Monte Carlo.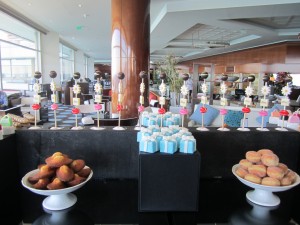 The Weekend In Paris was invited to the press conference when Chef Verneil was introduced to the community. I expected to see traditional French pastries, but I did not expect to see modern, creative, girlie cakes and treats. Her artistic twist added to traditional cakes and brownies was awe inspiring. I have always loved baking and tasting sweet French treats (some of you may be familiar with the fact that I am an éclair-oholic) but my knowledge is limited to directions from basic cookbooks. One of my dreams is to spend time in the kitchen with Chef Verneil learning how to make a proper croissant, éclair, brioche and cupcake and more importantly how to make the icings and fillings. I want my passion for travel and baking to collide!!!
My passion for travel is rivaled only by the readers of my blog. Some have never been to Paris before and are seeking expert advice from a trusted traveler and others have, but it's been quite some time and want fresh ideas. Either way, you are a passionate group who deserve to follow your travel dreams too. If money has been the obstacle to your travels, I just may have the solution for you. Enter the contest below by American Express and you could win a prize of $2,000 to follow your dreams! Maybe your dream to is go with me to Paris – even better! But you have to enter to win. If you don't enter, then the answer is no. So go ahead, take a chance and go for it! I entered today too…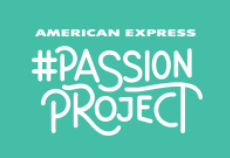 Dream. Dare. Do…American Express Launches the #PassionProject
Program Supports Makers, Creators and Mold Breakers
Contest Awards $20,000 Monthly to Support Consumer #PassionProjects
June 18, 2013 (New York, NY) – Today, American Express kicked off a new program designed to enable, inspire and encourage people to pursue their passion projects. The#PassionProject brings together leading experts, how-to advice, personal profiles and a monthly contest to inspire consumers to pursue the projects that are important and meaningful to their lives.
The program reflects the findings of the recent American Express LifeTwist study, revealing that Americans now believe success is no longer rooted in a sense of arrival, but defined primarily by the experiences they accumulate, detours they embrace and passions they pursue throughout their lifetime. American Express has been synonymous with success and the successful for much of its 163-year history, and its products and services have changed over time to reflect consumer attitudes towards achievement.
The LifeTwist study also found that 'passion projects,' defined as the pursuit of an interest or hobby, are considered an important ingredient to living a fulfilled and successful life by the vast majority of Americans (75%).
To bring these findings to life, the new program, launching today on YouTube, shines a light on Members of the #PassionProject through profile and how-to "do-torial" videos of people who are making an impact in large and small ways. Each feature is designed to motivate, educate and inspire consumers to pursue their own passion projects.
The first two members of the #PassionProject are:
· Scott Harrison, founder of charity: water, which brings clean, safe drinking water to people in developing countries. His "do-torial" video inspires and encourages others to get involved and explains five easy steps for turning your birthday into a fundraiser for those in need of safe drinking water.
· Rebecca Lando, creator of The Working Class Foodies, shares her philosophy on making seasonal, sustainable meals on a budget and shows how easy it is to cook just about anything with five simple tools.
In the coming weeks, American Express will also launch a new Tumblr community to share inspirational stories, advice from psychologists and industry experts, interesting research and videos to encourage consumers to uncover and kick-start their own passion projects.
Win Fuel for Your #PassionProject
Beginning today, and continuing monthly through the end of the year, individuals who have a specific project in mind can share their passion project and vie for one of ten $2,000 awards. The ten monthly winners will be chosen based on the creativity, originality and quality of the passion projects submitted. Projects can be submitted and shared at youtube.com/americanexpress.