26 Mar

Dijon Mustard, Cutting It in France

Article originally appeared in The Daily Basics – A Lifestyle Directory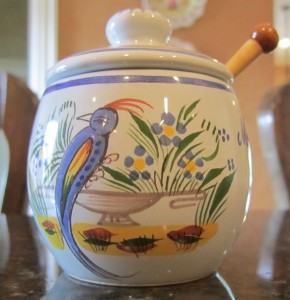 Did you know? Dijon mustard comes from France and was sold in Paris as a vinegar relish that people sprayed on their bodies to fend off the plague. Dijon, when speaking about mustard, refers to the process that is used to make the spicy version of our favorite condiment using vinegar along with mustard seeds. English versions do not use vinegar and taste stronger. French Dijon is smoother and a more mild kick. Today, the best and oldest brand for mustard (moutarde) in France is Maille.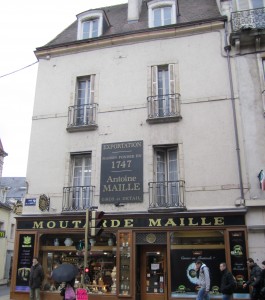 Outside Paris in the small city of Dijon, Maille's famous shop is the best place to find the most unusual flavor mustards in the world. Each is packed into pint sized elegant looking pots and conveniently bundled into small gift bags that travel easily. Imagine tasting mustard with asparagus and pink peppercorns or Chablis mustard with Crème de Cassis for starters. There are dozens of combinations to choose from to suit any palette.
On display and ready for purchase are adorable ceramic pots with wooden spoons to serve your mustard they way the French do. I bought an adorable Quimper mini mustard pot as a souvenir to keep me smiling until the next time I visit the charming home to mustard – Dijon.
If travel to France is not in your immediate plans, order directly from Maille online and begin enjoying that mustard kick soon. Can't wait to have some shipped over from France? I found one variety at Dean & DeLuca in the US online.
Maille: 32, rue de la Liberté, 21000 Dijon, France
 All photos property of Weekend In Paris. All rights reserved.