13 Feb

Classic French yet Modern Luxury at The Four Seasons Hotel George V, Paris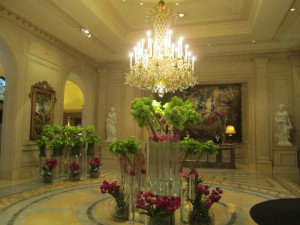 After a wonderful time in Nice and Monte Carlo we headed to the City of Light and The Four Seasons Hotel George V, Paris. Elizabeth and I met up with other gal pals Christine and Karen who had left their husbands and kids behind to fly in from the states to meet us a for a few days. From the moment we stepped into the lobby of the George V our senses were alive with the beautiful decor. The Four Seasons, world-wide, is known for their spectacular flower arrangements but the ones in Paris are the best I've seen. Artistic director Jeff Leatham reportedly has 12,000 blooms driven in from Amsterdam each week which are then displayed in gigantic glass vases with smaller glass bowls of unusual shapes holding more of his arrangements. The vibrant colors cannot be duplicated in photos and I fear my photos don't do them justice. Antique furniture, objets d'art and tapestries adorn the public spaces leaving me to feel like I need ADHD medication because I could barely focus on speaking with my friends while I tried to take in every inch of this incredible 1928 building.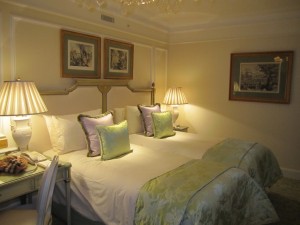 Our rooms were ready earlier than expected so after a quick coffee at La Galerie Lounge we headed upstairs with eager anticipation. Breathtaking is the only way to describe our rooms. Classically French – Louis XVI, but not frilly or stuffy. The luxurious bed fabrics were crisp clean neutrals accented with green and lavender pillows and bed coverings. The curtains were a pretty green check flanking the French doors and balcony with views of the courtyard below. There was a spacious sitting area complete with a formal, but comfortable couch behind a classic French glass coffee table with gold leaf accents. There was a built-in entertainment system and bookshelves giving us a feeling that we were at home in our own living rooms.
For those of us who have to work on vacation, it's always a plus to have enough space to spread out a laptop and documents. The partner's desk was both beautiful and functional. It had electrical outlets that accepted both European and American plugs making the use of adapters obsolete. Whether working or relaxing, I always appreciate a well-lit room. The glass chandelier added a touch of class as did the interesting lamps both on the desk and the bedside cabinets.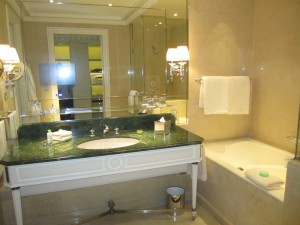 Normally I don't spend a lot of time commenting on the bathrooms, but there was so much thought put into its design and amenities I can't simply give you a one sentence overview. Let's start with the innovative design of the television screen built into the mirror. When the tv is in the off position you can't tell there is one present, but when it's on you have an HDTV to watch while putting the finishing touches on your look. There are speakers hidden behind the mirrors as well, which are surround-sound quality. Genius! A large marble vanity area and lighted magnified make up mirror meant that us gals traveling together had enough space to spread out without getting in each other's way and I just loved that they had a ring holder on the counter. How many times have we women taken our rings off to shower or sleep and then can't remember where we placed them? There was a large tub and separate oversized glass shower with hearty water pressure. Again there were dual power plugs eliminating the need for adapters for blow dryers. Fluffy towels ensured that once we washed up with the luxurious Bulgari toiletries our faces were freshly pampered. Fluffy robes are always a welcome amenity at fine hotels and these were exceptionally cosy.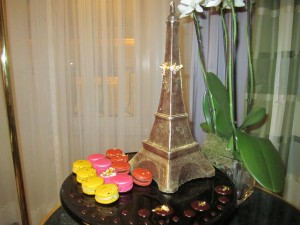 Other small touches that made this hotel room more of a home away from home were the generous sized lighted closets complete with linen/scarf drawers and the Nespresso coffee bar. To me, hotel artwork can make or break the feel of a room. Most don't accomplish what they think they are striving for but the George V does and blows all other hotels out of the park. Each piece was matted and fitted in high quality frames and placed perfectly throughout the room taking advantage of the high ceilings and crown molding to anchor them on the walls. It made the room feel as if I was in one of Paris' many petite museums instead of a hotel room.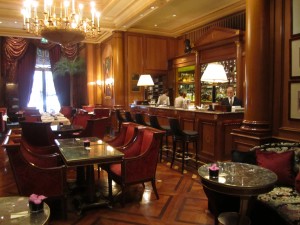 Le Bar was a super place for some yummy cocktails – champagne and martinis are the specialties of the house. We also had a fantastic lunch at the two-Michelin-star Le Cinq – the quintessential restaurant for business men and ladies' lunching. Sadly, I did not have time for a treatment at the Spa, however I did manage to take a tour of it and will be happy to share more of what I learned about it, Le Bar and Le Cinq in future posts. Keep posted!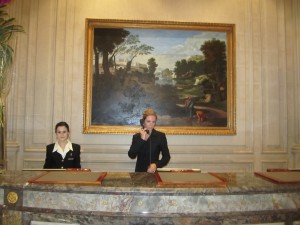 Having stayed at many Four Seasons I can say with huge authority that they set themselves apart from other luxury brands with personalization of people's visits. They get to know you as a consumer and go the extra mile to make sure that you don't feel like a number, rather, like a houseguest in their own homes. Everyone in the chain of custody of your visit makes sure they take care of you. Whether you are staying for one night or one week, the bar staff, bellman, front desk (especially Maude Obrist), housekeeping, and maître d' learn your name and use it. I don't know how they do it, but they always do! They are consistently excellent and then sometimes they just completely blow you away…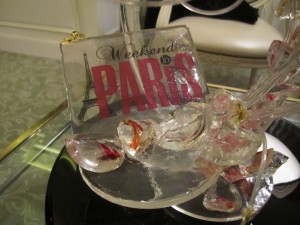 My jaw dropped when I saw the sugar sculpture the chef had created featuring my Weekend In Paris logo! A masterpiece created especially for moi?! I was overwhelmed by the thoughtful gesture to use my logo as the feature design in the delicate, sugary concoction by the prestigious pastry chef extraordinaire – Lucien Gautier. It is truly a masterpiece of culinary proportions! As if this did not already blow my socks off, the chef had also included delectable petit macaroons accented with edible gold foil, and a replica chocolate Eiffel Tower – somebody must have read my blog and knew I was a chocoholic. Lastly, at turn-down there were two petite-fours with the Four Seasons logo on them along side a bottle of Vieux J Pineau. Pinch me, I've gone to heaven!!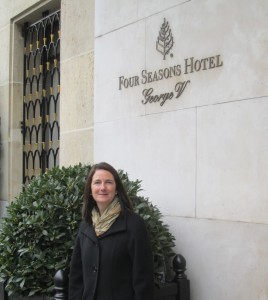 Merci beaucoup to the team at The Four Seasons Hotel George V, Paris for the PERFECT stay and most especially thank you to the talented, professional and hardworking Hélène Avril who is as beautiful on the inside as she is on the outside!
31, avenue George V,  75008 Paris, France
Tel. +33 (1) 49 52 70 00
All photos property of Weekend In Paris. Must obtain permission before use.
My stay at the Four Seasons Paris was compensated but not compromised. As always, my opinions are my own!