15 Dec

Christmas Around the World
The homemade ornaments on my Christmas tree make me smile every year.  It brings back memories of my boys when they used to wrap their arms around my neck so tight to hug and kiss me and tell me they loved me unashamed of their feelings for their Mom.  Ahh, those were the days!
Mixed in with those personal precious memories are ornaments we have collected from our travels near and far.  Collecting Christmas ornaments from my travels is something that I have been doing since the year I married – 1989.  Our first Christmas together we had just married and moved to London.  We had little money and I distinctly recall that I bought 12 little red apple ornaments to put on our Charlie Brown tree.  That was the extent of the decorations that year, but boy did we love having our own tree in our own flat in London!  Only a couple of those apples have survived the multiple moves but they are still among my favorites!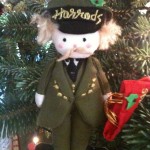 Each journey we have taken holds a special place in my heart.  I am mindful how very lucky I am to have had these experiences so I take care to not take them for granted.  New ornaments adorn our tree that I hunt for year 'round for each son.  My plan is that when my boys get married, they will inherit these ornaments so that they don't have to start off their married life with a barren tree like Mr. Weekend In Paris and I did.  My tree will be slightly bare again, but it will fill my heart to know that our family will have grown larger with the addition of their spouses and God-willing grandkids!  Not just yet boys – if you are reading this…finish school, get jobs and move out first before taking on marriage!