29 May

Say Cheese!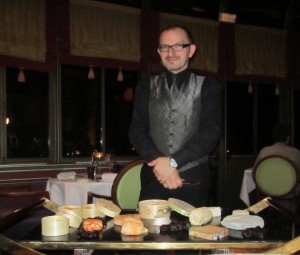 Why is it when people are taking your photo they get you to smile by asking you to say, "Cheese!?" After eating here, I know the answer – because cheese makes me smile. This is how French frommage should be served at every restaurant! Our friendly waiter at Les Jardins de la Cloche in the Hotel Sofitel in Dijon, France was adept at explaining and serving the cheese course. There were so many yummy, gooey and delicious slices to taste. He asked us first what our tastes were and made suggestions of which selections would be perfect for our individual palettes.
If I had known how fantastic the presentation and selection of cheeses would be, I would have ordered this as my last course, however, hind-sight is 20/20. Instead, I ordered chocolate and wound up with cheese envy. Luckily, Gal Pal Lisa is a "sharer" and ordered the cheese course AND she doesn't really eat chocolate. It was a win/win pour moi!
All photos property of Weekend In Paris. Must obtain permission before use.