04 Mar

Caught Trying to Take a Cézanne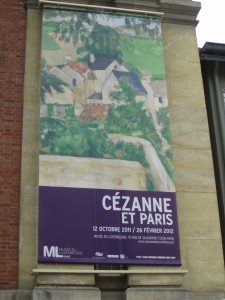 The art scene in Paris is addictive. Like most addicts, it is difficult for me to be satisfied merely viewing an amazing piece because I want to touch what the masters have touched to try to be closer to the essence of the piece. Most times I have to walk with my hands behind my back to prevent myself from giving in to temptation. I was very close to a sculpture in the Louvre many years ago and the docent screamed at me from across the room like I had just shot her mother. I wasn't going to touch it; I was merely tracing the form with my hands, but I have to admit that I wanted to touch it. Heck, I wanted to shove it in my purse and bring it home, but I didn't did I?
My visit to the Musée du Luxembourg with Gal Pal Lisa started out so innocently. I went with her to check out the latest Cézanne exhibition. It was the perfect way to spend a rainy afternoon. We arrived just as the museum was opening, purchased our tickets and made a bee-line for Cézanne.
Winding my way around the maze of small galleries that showcased some of Cézanne's best masterpieces, I was minding my own business when Monsieur Security Man showed up. He spoke sternly to me accusing me of, "Taking a Cézanne." I said, "No, I was not trying to take a Cézanne." His response came with a stern warning, "Do not lie to me. I have been watching you and you were you trying to take a Cézanne!" I was flabbergasted, thinking what the heck is he talking about, but then realized he was not really angry with me, he was just enjoying scaring the crap out of me. Suddenly it dawned on me what he was referring to and so I laughed and answered honestly, "I am so sorry. Yes, I was trying to take a Cézanne." He then instructed me to go with him, but now he was grinning from ear to ear. I knew then that I would not be incarcerated, but rather helped by this rather good-looking security man to make amends. For yes, indeed, I was trying to take a PHOTO of a Cézanne. Without a flash, but definitely snapping away because I did not realize this exhibition was not allowing photography of any kind. I guess I was so wrapped up in the excitement that I assumed it was the same as the other museums in Paris where you can take photos, just without flash.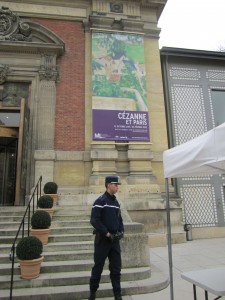 Monsieur sweetly brought me over to a corner as to not embarrass me, overlooked my shoulder whilst I deleted photos, and told me nicely to enjoy the show. Whew! No burning at the stake or beheading in my near future, I refocused and spent the rest of my time viewing with my hands behind my back and the camera tucked safely away in my purse.
Monsieur might have had the first laugh, but I had the last one because when I returned to the hotel that night, I realized that I had turned the camera off before the deletion had completed of the last photo in the series I had taken. My apologies to him, the Musée du Luxembourg and Cézanne, but I am thrilled that one survived! OMD (Oh Mon Dieu) am I now banned from all museums in Paris?!
Musée du Luxembourg
19, rue de Vraiguard, Paris 75006
All photos property of Weekend In Paris. All rights reserved.