21 Mar

Finding a Carousel in France is Always Fun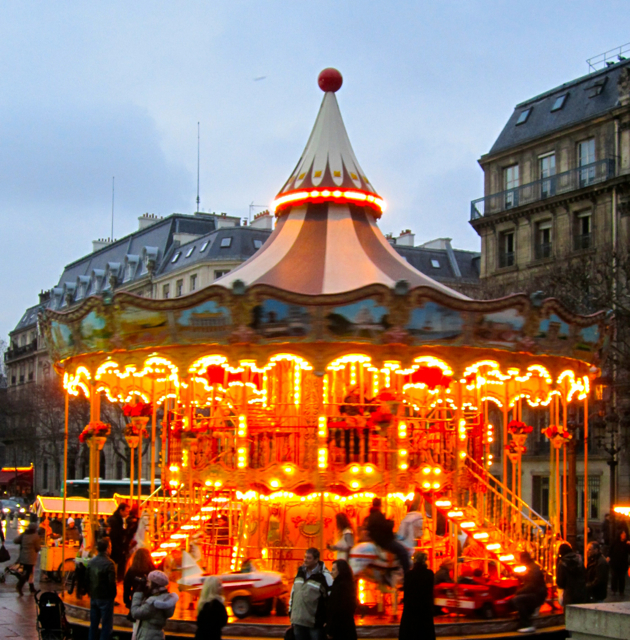 Marais, Paris
Childhood memories of running towards a merry-go-round to try to be the first to select a favorite horse to ride upon come flooding back whenever I am in France. It seems that every city I visit has at least one of these nostalgic rides. You need not look far in Paris for one of the brightly colored carousels. Most are strategically located in high tourist traffic areas, others are smaller and tucked away in petit pocket parks in residential neighborhoods. No matter where you come across one of these gems, finding a carousel in France is always fun.
Many of my favorite versions of French merry-go-rounds are outside Paris in other major cities. Due to a long bout with vertigo a couple of years ago, these days I prefer to photograph them than ride on one. While I no longer enjoy participating in a turn on the carousel, I still love to see the colorful platform spinning around, watching gleeful children and adults as they experience a slice of happiness reserved for the young and young at heart.
If you are traveling with kids to France, make sure you stop by one of these sites – you will be their hero. When they need a break from sitting at the table or going to another museum where they are expected to be quiet, merry-go-rounds offer a respite from the calm and allow them to cry out with laughter without hesitation. I hope one of these is part of your journey to The City of Light or in one of the beautiful cities in France.
All photos are the property of The Weekend In Paris unless otherwise noted. Must obtain permission before use.