01 Jul

Business Meetings in Southern France are Nicer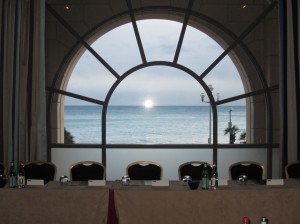 Imagine having to go to a business meeting in southern France, Nice to be exact. Would you be excited or bummed out thinking that perhaps you would miss out on all the beauty of the Mediterranean Sea?
If your meeting is at the Hotel Palais de la Méditerranée you won't be missing a thing. The views from the conference room are spectacular. You might just have a difficult time concentrating on the business at hand, or it could motivate you to get your work done early so you can head across the street to one of southern France's best beaches. My advice, get to the meeting early to ensure you can grab a seat facing the gorgeous view. The only thing worse than having a meeting when the view is so lovely, is having to sit in the meeting with your back to the view!
All photos property of The Weekend In Paris. Must obtain permission before use.
Hotel Palais de la Méditerranée by Hyatt Regency
13 Promenade des Anglais
Nice,  France, 06000
Tel: + 33 (0) 4 93 27 12 34