30 Jan

Au Revoir Paris…Ciao Milan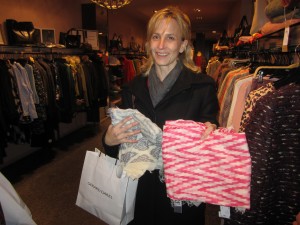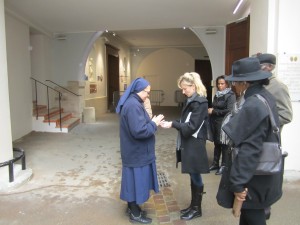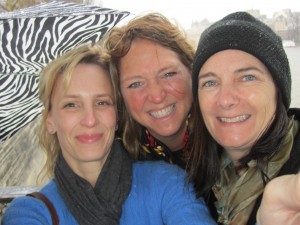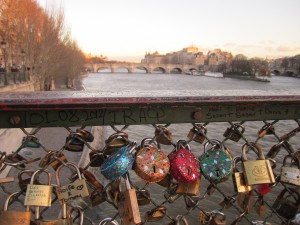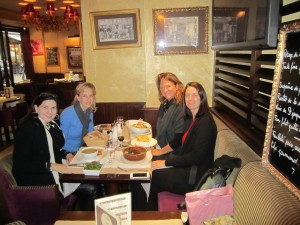 My time in Paris, Nice and Monte Carlo has come to a close. The Gal Pals are having one last French meal at my favorite L'Epi Dupin where we will toast to our bon vivant trip with, you guessed it, Bordeaux!
Our last day began with a prayerful stop at the Chapel of Our Lady of the Miraculous Medal. According to the website, "Here you are at a pilgrimage site visited by many. In this chapel, the Blessed Virgin appeared to Saint Catherine Labouré, a Seminary Sister (novice) in the Daughters of Charity in 1830, in order to offer the world a medal. This simple object, intended for all people, making no distinction, sums up the mysteries of Christian faith through its rich symbolism." It goes on to explain, "When a deadly cholera epidemic broke out in Paris in February 1832, claiming more than 20,000 lives, the Sisters began distributing the first medals. Many cures were reported, along with protection and conversions. The word spread like wild-fire. The people of Paris called the medal 'miraculous'." Knowing many people back home who need our prayers, we purchased medals and waited outside the Chapel to have them blessed by the Sisters.
We continued our day of leisurely strolling the streets of the 6th and 7th Arrondissements winding our way along the narrow sidewalks and stopping at will to take photos of interesting buildings, people and shops. The weather was not cooperating the first half of the day and rained on our parade – our journey to place our "Locks of Love" on the Pont des Arts. But not to let anyone rain on our parade, we laughed the whole time despite being soaked to the gills.
After a warm and satisfying lunch at Café de Paris, we ventured outside to find that the sun was shining. This was a great sign, a sign that we must press on and see more, do more in Paris and so we found ourselves once again traversing the cobblestones and dodging fellow tourists. A stop at one of the oldest churches in Paris – Abbaye de Saint-Germain-des-Prés was in order before we set out on an epic shopping spree. At last count we stopped in at over 20 boutiques, never spending more than a few minutes, but managing to do some major league bargain hunting given that this is the time of the huge "soldes" or sales.
Our feet aching and our arms laden down with shopping bags, we stopped one more time to see our Locks of Love secured to the bridge to take a photo without the pouring rain before collapsing back at the hotel. As I write this, sadly I am packing my bags before dinner and making the last notes from my adventures in France. But I won't be depressed because tomorrow I'm off to the Four Seasons Milan and Venice!
All photos property of Weekend In Paris. Must obtain permission before use.