20 Apr

A Stroll on Rue Saint Dominique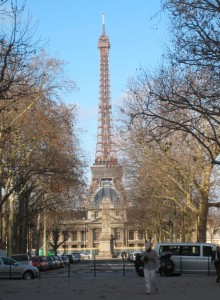 Another fabulous Guest Post from writer Margo Waite…
One of the more interesting Parisian streets I've explored is rue St. Dominique in the 7th arrondissemont.  It's listed on Trip Advisor as the 276th attraction out of 527 in Paris.  That's not a great distinction to be sure, but there's a lot to see and do on this little street which connects Les Invalides to Parc du Champ de Mars and the Eiffel Tower.  You'll think I'm off base as you start your walk toward the Eiffel Tower from Invalides.  The first couple of blocks are not very interesting architecturally and shopping is scarce.  But persevere, and you'll be rewarded by a chic shopping street with prices ranging from ridiculously low to excessively high—and everything in between.  As you continue your walk, the Eiffel Tower looms encouragingly.
I'm the first one to admit I'm food obsessed.  My quest on my last trip to Paris was to find the best almond croissant, and I succeeded.  It's at La Boulangerie Julien at 85 rue St. Dominique.  These are big croissants, stuffed with dense, not too sweet, almond paste in a light, flaky crust, and topped with sliced almonds and of course the requisite dusting of powdered sugar.  If you need even more of a carbo rush, just across the street at 74 rue St. Dominique is Lemoine, with a dazzling selection of chocolates and macaroons.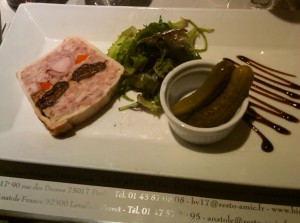 Rue St. Dominique is also home to many restaurants, including four which are part of the famed Christian Constant's empire: Café Constant at 139, Le Violon d'Ingres at 137, Les Cocottes at 135, and Les Fables de la Fontaine at 131. Our lunch at Les Cocottes was wonderful.  Although the restaurant was crowded, we marched in and found seats at the counter up front.  The service was prompt and friendly, and our mushroom veloute and creamed white bean soups were ethereal; not only was our pate delicious, it was beautifully plated.
On this street of opportunities, I was on a mission to buy a Parisian scarf and my choices were vast.  I succumbed to a red wool challis scarf with bright white stars at Scarlet Roos at No. 95.  This scarf of my dreams cost 39 euros.  But at other stores on the street I could have easily spent 100 euros—or 10 euros at Camaieu at No. 84.
If you go:  The Rue Cler market with its abundant fresh produce, cheese shops, bakeries and wine purveyors is one block off Rue St. Dominique.  I buy my cheese at La Fromageria at 31 rue Cler, and wines at Repaire de Bacchus at 29 rue Cler. More about rue Cler in another post.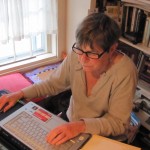 Margo is a frequent guest blogger for Weekend In Paris. Besides being a knowledgable Francophile, she is an Independent Publishing Professional based out of Newport, Rhode Island. She is an avid traveler, foodie and lover of all things French.
All photos property of Margo Waite. Must obtain permission before use.